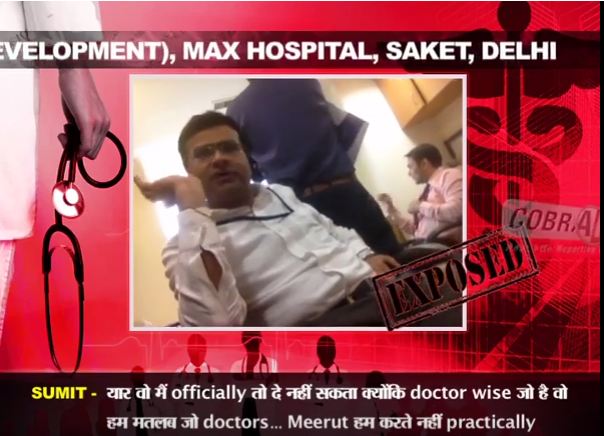 Cobrapost unearths a thriving racket in which all major private hospitals hand out handsome commission to doctors and smaller hospitals for referrals, at the expense of patients
New Delhi: In a long investigation spanning three mega-cities of Delhi-NCR, Mumbai and Bangalore and covering 20 major private multi-specialty hospitals, Cobrapost has unearthed a racket of referrals in which these hospitals offer commission ranging between 10 and 30 per cent to doctors and smaller hospitals or nursing homes. Undertaken by Cobrapost Special Correspondent Umesh Patil, the investigation exposes almost all marquee names among private health care providers, namely, Fortis Hospital (with a branch each in Mumbai and Bangalore), JP Hospital and Metro Hospital in Noida; Yashoda Hospital and Columbia Asia Hospital (with a branch in Bangalore) in Ghaziabad; MAX Hospitals (in Saket and Patparganj), Apollo Hospital (with a branch in Bangalore), BLK Super Speciality Hospital, all in Delhi; Nanavati Super Speciality Hospital, Hiranandani Hospital, Asian Heart Institute, Seven Hills Hospital and Jaslok Hospital, all in Mumbai; and Narayana Hrudayalaya College of Nursing and Mallya Hospital both in Bangalore.
In the course of this undercover investigation, Cobrapost Special Correspondent interviewed marketing officials, not less than the rank of assistant managers, of these hospitals who without exception candidly admitted on camera to offering handsome rewards to doctors, and smaller hospitals, who send their patients to these super-specialty hospitals for serious ailments.
These confessions can be summed as follows:
 To make more business out of patients' miseries, all these hospitals offer handsome commissions to individual doctors, nursing homes and smaller hospitals, which cannot handle serious ailments, on all referrals.
Each hospital has an elaborate process for such referrals and pay-offs thereof.
Commissions to individual doctors are paid out to them as consultation fee.
In addition to regular cuts, some of these hospitals give such doctors expensive gifts.
All these hospitals have a well-oiled network of doctors and small nursing homes and hospitals, to help them generate a steady business out of patients' needs for specialized treatment.
Well, they also know that this is a malpractice under the MCI guidelines, yet they do not blink an eye while indulging in it.
It should be kept in mind that the MCI guidelines specifically prohibit the disbursement of commission by hospitals for patients referred to them. The MCI Code of Ethics Regulations, 2002 Chapter 6 Unethical Acts are as follows:
6.4 Rebates and Commission
6.4.1 A physician shall not give, solicit, or receive nor shall he offer to give solicit or receive, any gift, gratuity, commission or bonus in consideration of or return for the referring, recommending or procuring of any patient for medical, surgical or other treatment. A physician shall not directly or indirectly, participate in or be a party to act of division, transference, assignment, subordination, rebating, splitting or refunding of any fee for medical, surgical or other treatment.
JP Hospital, Noida: Deputy Manager (Sales and Marketing) Amit Kumar Banupdhayay and Senior Manager (Sales and Marketing) D.K. Bhardwaj
Our first port of call is JP Hospital, spread across 25 acres in Noida's Sector 128. Assuming an alias supposedly working for small-town hospital in Meerut offering referral services to big hospitals, Cobrapost reporter first met Deputy Manager (Sales and Marketing) Amit Kumar Bandopadhyay and after him Sr. Manager D. K. Bhardwaj. Both tell us their hospital gives a 10 per cent cut on patient referrals and has provisions for it. Says Amit Kumar: "Radiotherapy mein dus per cent de rahe hain … even aapka kya bolte hain chemotherapy and surgical oncology ka koi case aata hai to uss par bhi 10 per cent de rahe hain drugs and disposals hata ke (We give 10 per cent [cut] for radiotherapy … even in cases if chemotherapy and surgical oncology we give 10 per cent excluding the bill on drugs and disposals)."
The stage is now set for more revelations. Since all specialized treatments come in a package, so the cuts are also come in a package. Reveals Kumar: "Radiotherapy mein jo hai usmein koi shaq hi nahi hai wo toh IGRT hum log de rahe hain one lakh sixty-five thousand, IMRT hum log de rahe hain one lakh thirty thousand toh iss type se package bana hua hai … surgical mein hum log package bol dete hain jaise doh lakh ka package hai ya teen lakh ka package … utne lakh ke package ke ooper 10 per cent milna hai (There is no doubt about radiotherapy. We charge one lakh sixty-five thousand for IGRT and one lakh thirty thousand for IMRT. Packages are fixed like this. For surgical cases, we quote a package of Rs. 2 lakh or 3 lakh … you will get 10 per cent cut on that package)." If their hospital offers a commission between 20 and 25 per cent for referring international patients, you can get 5 per cent cut even on referrals of CGHS patients. "International ke patient ke liye MoU wagaireh signature karna padta hai sign karna padta hai uske liye 25%…. 20 to 25 per cent de rahe hain (alFor internation patients an MoU has to be signed … for them we give 20 to 25 per cent)." The terms and conditions of this deal don't change even if a patient dies. Not only that, the hospital also showers gifts on you for helping it to fill its coffers: "Hum Holi bhi dete hain Diwali bhi dete hain Eid bhi dete hain par reason kya hai usmein kya hota hai usmein apko 100 rupees se lekar humne 50,000 tak ke gifts diye hain wo in se alag wo different hai (We give gifts on Holi, Diwali and Eid, worth ranging from Rs. 100 to 50000. The reason is … This is different from your regular cut)."
The JP Hospital official knows very well what they are doing is in violation of MCI guidelines and acknowledges the same in no uncertain terms when Cobrapost asked him to provide rate list over phone: "Nahi phone par bhi nahi kar sakte baat reason main batata hoon MCI ka peeche bahut zyada problem hua tha aaj se derh saal pehle teen centre Delhi mein already band ho chuke hain (No, I can't talk about it over phone … I will tell you the reason … about one and a half years ago MCI had caused lot of problems … it has already shut down three centres in Delhi)."
Metro Hospital, Sector 12, Noida (UP): Corporate Relations Head Parnav Sinha and Assistant Manager(Corporate Affairs) Belal Ahmed
The corporate greed that feeds on human miseries knows no scruples, as Cobrapost finds, no matter however high the stature of a person may be. Here, we are talking of Dr. Purshotam Lal, the famed cardiologist and owner of Metro group of hospitals, who was awarded Padma Shree in 1993, Padma Bhushan in 2003 and Padma Vibhushan 2009, the second highest civilian honour, by the Government of India.
When Cobrapost reporter upon a tip-off landed at his Noida Sector 12 hospital, one of the 12 hospitals that his group owns, he was shocked to find the hospital brazenly plying the trade of commission for referrals to boost its business bottomline. Here, Pranav Sinha, Corporate Communications Head of the group, and his colleague Assistant Manager (Corporate Affairs) Belal Ahmed educate us on how much commission his hospital pays out for referrals for procedures like stent implant, angiography, valve replacement, hip replacement, radiotherapy and chemotherapy, among others. Look what he says is on offer: "Dekho aap ye leke chalo multi ka koi bhi agar procedure hota hai theek hai usmein consumer bill aur medicine nikal ke jo bhi bill banta hai uspar 10 per cent dete hain … to wo hum tie up kar sakte hain (You see if there are multi-procedures to be done, then you will get a commission of 10 per cent on the consumer bill raised, excluding medicine … we can have a tie-up)." Although Bilal claims that his hospital has a list of about 1000 BAMS doctors who provide referral services, he very well knows that it is against the rules: "Ab dekho ab mein bata raha hoon ye cheejein hain na ye ghalat hain ye sab cheejein (You see what I am telling is all against the rules)." And to be fare his hospital hands out your cut all in cash, and if you can refer international patients you can laugh all the way to bank while making a clean 30–35 per cent cut.
Metro Group of Hospitals refuted allegations and said they have never indulged in any of the malpractices. The reply can be found here. 
MAX Hospital, Saket, Delhi: Manager (Business Development) Sumit and Assistant Manager Mustafa
MAX Hospital in Saket, an upscale locality in Delhi, also offers 10 per cent referral cuts, but there is a cap of Rs. 50,000 per patient. Here, Cobrapost reporter met Sr. Manager Sumit and Assistant Manager Mustafa. "10 per cent hota hai aur wo excluding … (We give 10 per cent [cut] and that is excluding …)," Sumit informs us but refuses to give us the rate list: "Yaar wo main officially to de nahi sakta (I cannot give you that list officially)." But there is one condition. One will be eligible for this referral cut only when he is informed three hours before a patient is admitted. According to his colleague Mustafa, the hospital has about 400 doctors who provide it referrals and if what Mustafa says is true the hospital pays about Rs. 20–25 lakh every month in referral cuts. Says Mustafa: "Har mahine 20–25 lakh jata hoga (Every month about Rs. 25–25 lakh goes out)."
Given the fact that the Max group has 14 hospitals across Delhi, this amount may run into crores. It is known fact that most of these hospitals keep patients on ventilator for days more than necessary, and Cobrapost seeks more money in such cases, Mustafa confirms this practice in his hospital in no uncertain words: "Haan wo kya ventilator mein to apni marzi ka rehta hai (Yes, putting a patient on ventilator is our discretion)." It means that this discretion is abused to squeeze more money from patients. In his hospital jargon such referral cuts are called pay outs and are shown in account books as consultancy fee. This is done to circumvent MCI guidelines and make it legal. Mustafa explains: "Wo nahj bolte cut nahi bolenge referral pay out ya incentive bolte hain thoda sa bas … wo MCI ki wajeh se ye documents isliye mangte hain ki jis tareeke se ye legal ho jaye (No, don't call it cut. We call it referral payout or incentive … the reason is MCI. That is why we seek those documents to make it legal)." These payouts are made after TDS showing the person concerned as a visiting consultant and the payout his fee. Mustafa also claims that the hospital charges Rs. 4–5 lakh from a surgery patient if he stays for a week. He defines the philosophy of his hospital in these words: "Yeh dhandha business hai ye … ye mat socho … samaj seva nahi hai (This is pure business … don't think it is social service)."
MAX Hospital, Patpargunj, Delhi: Deputy Manager Ashish Singh
Deputy Marketing Manager Ashish at Max's Patparganj Unit informs Cobrapost reporter that there has to be a formal tie-up with the hospital with proper documentation. The patient referred should not be from their corporate panels and patients' arrival should be intimated beforehand. He also informs us of a uniform policy with regard to referral payouts throughout 14 hospitals of the Max group. Of the referral cut Ashish says: "10 per cent milega lekin excluding medicine aur wo bhi agar ek patient hoga …uspe capping hogi 30,000 ki (You will get a 10 per cent cut, excluding medicine [bill] if there is one patient … but there is a capping of Rs. 30,000)." According to Ashish, even doctor who conducts a surgery gives payout for such referrals.
Indraprastha Apollo Hospital, Delhi: Senior Manager (Marketing) Ram Naresh Bhagat and Asst. Manager Vipin Sharma
Apollo Hospital is one of the swankiest corporate health care facilities in Delhi with the rich and famous flocking to it for treatment. Here we meet Sr. Manager Ram Naresh Bhagat and Asstt Manager Vipin Sharma. Bhagat tells us that we can get 10 per cent cut on referrals for almost all medical procedures, and the payments are made by cheque favouring only those with whom the hospital will have entered into an agreement. Apollo also receives patients from abroad, and if you refer a foreign patient to them, you can make a neat cut of 15 per cent. According to Vipin Sharma, one can get a cut of "15% of total bill amount." This referral cut also includes bills against medicine and other services. Claiming that his hospital does not charge 50 per cent extra to international patients, Sharma bares it all: "Marketing ka aapko sara funda pata hai jitna patient se charge karoge utna doge (You know the marketing funda … the more you charge from the patient the more you have shell out [in cut])… we cannot charge 50%… we are charging 18% giving you 15%."
BLK Super Speciality Hospital, Delhi: Senior Manager Vinay
Next, we call on Vinay, Senior Manager with the BLK Super Speciality Hospital on Pusa Road in Delhi, to check if our tip-off had any substance. It does not take much time to get Vinay talking, who tells us we can get a 12 per cent of referral cut on total bill, excluding medicines. He says: "Humara domestic rehta hai domestic mein hum kya karte hain jaise aapke patient rahenge toh jahir si baat hai super-specialty ke rahenge super-specialty mein hum log kya karte hain hum log 12 per cent dete hain (We deal with domestic patients. What we do in case of domestic patients is suppose you refer patients to us, obviously those patients will need super-specialty care, so on super-specialty care we give 12 per cent [cut])." Like other hospitals investigated, super-specialty treatment at BLKM Hospital too comes in packages and the referral cut is paid out accordingly. However, only cardiac procedures have a fixed cut, and for the rest 12 per cent cut on the bill is assured. If BLKM Hospital has become so big, it is because of referrals: "Ye BLK itna bada kaise hua reference se hi toh hua walk-in referral (How this BKL[M] has grown so big. It is because of reference … walk-in referrals)." Here, again a proper agreement will be executed to make it legal. Better get it in the name of the doctor you are working for, he suggests.
Columbia Asia, Ghaziabad (UP): Marketing Manager Satyanarayana
Situated on NH 24 in Ghaziabad, Columbia Asia Hospital is one of the 28 such multi-specialty units owned by Malaysia's Columbia Asia Group across Asia, in Malaysia, Indonesia, Vietnam and India. If you expect such an institution should not indulge in malpractices such as this, you need to do a reality check as did Cobrapost. Marketing Manager Satyanarayana does not have any qualms while telling us he is flexible on referral cut: "Bada case hai aap bolo total bill ka aap 10 per cent bolte hain … nahi aisa nahi waisa chahiye … humko 40 chahiye 50 chahiye meri taraf se main toh flexible hoon (If the referred case is a big one, then you will get 10 per cent cut of the total bill … still you say this is not what want or you want more … 40 per cent 50 per cent, then I am flexible about that)." The payout will be made through NEFT and if the amount is smaller, it can be collected in cash. The hospital has given Satyanarayana a target to generate Rs. 7 crore worth business and he pesters Cobrapost reporter to commit himself to help get a certain volume of business from him.
Fortis Hospital, Sector 62, Noida (UP): Deputy Manager Nishant Chauhan
Fortis Hospital in Noida's Sector 62 does not need introduction. It in itself is a landmark in the health care landscape of Delhi-NCR. However, don't get overawed by its daunting image. It also depends on referrals to keep its account books more profitable.The moment our reporter tells him JP Hospital is giving more referral cut, Deputy Manager Nishant Chauhan spills it all for us: "Bhai JP de sakta hai dekho competition toh sabka hai humara toh yahi rahega 10 per cent hum log dete hain wahi humara rahega agreement (Brother, JP [Hospital] might offer you more. No doubt, there is competition but we give 10 per cent and this will be our agreement)." At this hospital, according to Chauhan, every procedure package carries a fixed referral cut, which ranges from Rs. 10,000 to Rs. 15,000.
Yashoda Hospital, Ghazibad (UP): Nagander Senior Manager(Marketing)
Located on the border of Delhi in Kaushambi area of Ghaziabad, Yashoda Hospital claims to be a super-specialty hospital. When we meet Nagender, Senior Marketing Manager, telling him we have cancer patients for referral, we come to know this hospital too is indulging in illegal activity to keep its coffers filled. Nagender tells us we will get a referral cut of 10 per cent on the bill raised excluding medicine expenses: "… except consumer 10 per cent." But we will get this cut only on inpatients. Explains Nagender: "Only IPD pe only IPD pe admit hoga patient aapko milega (Only on IPD … when your patient will be admitted only then will you get the cut)." While 10 per cent referral cut is paid for every procedure conducted on IPD cases, we will get 30 per cent cut on clinical investigations as well. Here is what Nagender tells us: "CT scan MRI ke liye bhejo aap 30 per cent uspe (Send patients for CT scan and MRI, we will give you 30 per cent cut on that as well)."
Now, what Nagender says reveals is the demonic face of the medical practitioners at its ugliest: "Business revenue se related hai saari cheejein samajh rahe ho kisi ko knee replacement bol diya doctor kahega karao karoa … zaroorat nahi hai aise hi nakal lo time … ye toh hai ab ye batao doctor nahi karega to uski degree fail hai na kaahe ko aaya wo parh-likh kar itna … toh jis company ne ye jo knee replacement ke wo bekar hain unki manufacturing bekar hai unke bhi … khali … toh toh chain bani hui hai poori jo stent supply karte hain unke bhi aise hi … (All things are related to business revenue, please understand. Suppose, somebody has been advised to go for a knee replacement … doctor may say go for it … or no there is no need … you can pass your time … this is it. Now if doctor does not do what he is supposed to do then all his study is fail(ure) … then the company manufacturing knee replacement products will have no business … this is the complete chain … the same is true for those who supply stents)."
Dr. LH Hiranandani Hospital, Mumbai: Manager(Marketing) Bhagat Singh
During the course of our investigations, we also visited Mumbai, India's financial capital, to know if those seven-star health care facilities do what their counterparts in Delhi were doing. Unfortunately, we were not disappointed. For instance, when we approached Bhagat Singh, Manager, Dr. L.H. Hiranandani Hospital in Powai, Mumbai, with our proposal to act as a go between patients and his hospital, Singh is encouraging in his approach although he is somewhat cagey initially. "Ismein nahi na hai Sir aisa … referral cut ka beech mein humare yahan thoda problem ho gaya tha tab se humne band kar diya (No Sir, this is not the case here … we had problem with regard to referral cut sometime back … so we have stopped the practice since then)," he informs and then in the same breath his tone gets conciliatory. "Aapke liye especially aapeke liye main aage baat karoonga (I will talk to my superiors especially for you)," he says. As our negotiations proceed, Singh comes up with his offer of referral cut on knee replacement: "Usmein aapko 15 se upar hi milega matlab main toh bol raha hoon 15 ke upar (You will get a cut of Rs. 15000 on that. I am telling you)." In case the patient has to get both his knees replaced, the cut will be almost double. "Wo mil jayega abhi start karo (You will get that. You just start it)," Singh assures. Then he also reveals how much we will get in other procedures.
Fortis Hiranandani, Mumbai: Senior Manager (Marketing)Shubhendu Bhattacharya
One of the largest players in private health care sector, the Fortis group runs 45 super-specialty facilities in India, Dubai, Mauritius and Sri Lanka. We checked on one such facility in Wasi area of Mumbai. Here, at Fortis Hiranandani Hospital, our reporter meets Senior Manager Shubhendu Bhattacharya who does not take any effort to make his own confessions on how they conduct their business.
Bhattacharya advises us to bring surgical cases: "Main aapko bata deta hoon agar surgical case rahega toh theek rahega (I should tell you it is better if you refer surgical cases)." The reason is they offer 15 per cent referral cut in such cases. Similar is the case with procedures such as valve replacement. Bhattacharya rattles off rates of referral cuts for various procedures: "Theek. surgical cases 15 per cent after deduction ek doh baar aapka aa jaye na toh aap thoda clear ho jaoge agar pulmonary angiograhoy hota hai chaar hazar stent lagta hai bees hazar bypass hota hai pachees hazar unilateral TKR hota hai toh … pandrah hazar (Ok. In surgical cases, we give 15 per cent after deduction. After some transactions, it will be clear to you [how it works] … if pulmonary angiography is conducted, you get 4000, if it is stent implant, you get 20,000, if it is bypass surgery, you get 25,000, if it is unilateral TKR, you get … 15,000)." But there is capping. One can enjoy a cut not more than Rs. 40,000 for a referral, and then you have to keep Bhattacharya informed of patient's impeding visit and admission. Although encouraging Cobrapost reporter to refer patients to his hospital, Bhattacharya knows very well that soliciting patients in this manner is illegal. He thus acknowledges: "Ye illegal hai … ye daldal hai … ismein kyon milna chahiye kisiko batao na. Lekin abhi aisa hai nahi doge to patient nahi ayenge (This is illegal … this is muck … why should anybody get a cut for it but the problem is if you don't give a cut patients will not come)."
Asian Heart Institute Hospital, Mumbai: Asst. Manager(Marketing &Sales) Milind Mehta
Claiming to be the best in heart care, Asian Heart Institute Hospital is one of the most expensive hospitals in Mumbai, flocked by the wealthy and famous, including industrialists, businessmen, politicians and cine stars. According to Assistant Manager Milind Mehta, the hospital has more than 100 doctors on its panel who send in patients. However, the hospital offers referral cut of 2–3 per cent only. But every procedure here costs not less than Rs. 10 lakh. He tells us, "30 ke upar agar aa jata hai toh de dete hain hum (If you can generate a business of Rs. 30 lakh we can give a cut)." He further explains: "20 tak jayega toh doh taka milega … actually kya hai 20 aur 30 mein zyada antar nahi hai 30 ke upar jayega toh 3 taka milega (If it goes over Rs. 20 lakh, then you will get a cut of 2 per cent … actually there is not much difference between 20 and 30. If it goes over Rs. 30 lakh, then you will get a 3 per cent cut)." And for providing the hospital referral services, there will be an MoU. But first certain legalities have to be followed. "Aapka jo bhi hoga na hum aapko wo baqayada MOU ban ke hi ayega (Whatever cut is due to you will be paid only after an MoU is executed)." Mehta further tells us that the Parkar Hospital generates Rs. 30–40 lakh worth of business for them every month and is paid referral cuts at the rate of 3 per cent.
Reacting to Cobrapost, Asian Heart Institute Hospital replied that the statement of Milind Mehta shown in the story is 100% false. The reply from the said hospital can be seen here on the link.
Seven Hills Hospital, Mumbai: Asst. Gen. Manager Shiv Kumar and Sr. Manager Virendra
Located in Andheri area of Mumbai, 7 Hills Hospital is another five-star health care facility meant to serve the needs of the rich. Here we first met its Assistant General Manager Shiv Kumar and then Senior Manager Virendra and our tip-off was bang on. According to Virendra, Seven hills has a tie-up with about 1500 doctors and 250 smaller hospitals to help keep its cash registers always ringing, and there is 10 per cent referral cut for all to be collected. Assistant GM Shiv Kumar says: "See … 10 per cent on the bill excluding medicines and consumer." He also tells that there are packages for various procedures: "Package hain … knee replacement mein package hai, angioplasty mein package hai (There are packages … There is package for knee replacement and there is package for angioplasty)." He then directed us to his junior colleague Virendra who tells us that there referral cut is fixed according to the bill amount. Listen to what he says: "Ninety-nine thousand pe nahi denge 1 lakh hua toh ek lakh ho jata hai aur yehi 3 lakh bill hua toh 12 per cent aur 5 lakh bill hua toh 15 per cent theek hai ye system hai (If the bill is Rs. 99,000, we will not pay you any cut, but if it is Rs. 1 lakh bill, you will be paid, if it is Rs. 3 lakh bill you will be paid 12 per cent and if it is a Rs. 5 lakh bill, you will be paid 15 per cent. This is the system here)." It is a purely target-driven enterprise. According to Virendra, they have to achieve a target of Rs. 13 crore every month and to achieve it they have well-oiled network of doctors and nursing homes: "Doctor toh 1500 hain hospital matlab do sau dhai sua tak chhote chhote nursing home ye wo aise jude hain (We have a tie-up with over 1500 doctors and about 200–250 small nursing homes)."
Replying to Cobrapost, Seven Hills assured being a JCI (Joint Commission International) accredited hospital it will never indulge into any malpractices and will follow MCI guidelines. The reply can be found here.
Nanavati Super Speciality Hospital, Mumbai: Head (Referral Team) Arvind Maurya
You will be shocked to know that another five-star facility in Mumbai, Nanavati Hospital, has a separate referral team to deal with all kinds of referrals. Arvind Maurya, Head of the Referral Team, tells us: "Hospital ka aapka jo tie-up hai hospital se tie-up kar sakte hain hum log jo bhi patient ayega uspe sirf durgs disposable aur implant minus karke 10 per cent mil jayega aapko (We can have tie-up with your hospital. Whatever bill will be raised, you will get a cut of 10 per cent minus durgs, disposable and implant)." There is no capping on referral cuts, and an MoU will have to be signed to provide referral services to Nanavati. For this purpose, the hospital has a network of doctors.
Reacting to Cobrapost, Nanavati Hospital replied that they can assure us that they don't encourage or indulge into any unethical business practices and conduct their business with the highest level of transparency and integrity. The reply from said hospital can be seen here on the link.
Jaslok Hospital, Mumbai: Marketing Manager Subodh
The famed Jaslok Hospital located in Pedar Road in Mumbai is no exception to this referral racket. Markting Manager Subodh tells us that before referring a patient to Jaslok, they need to be informed. Here, one gets 10 per cent cut on investigation bills apart from the regular medical procedure employed for an IPD patient. Says Subodh: "Uske baad fir aapka jo bhi patient aap bhejoge aapka patient discharge hota hai agar investigation basis wagaireh jo bhi hai ya fir aapka IPD basis hai … Investigation mein we will give flat 10 per cent jo bhi uska investigation ka amount hoga uspe main 10 per cent doonga (After that the patient you will refer to us and when the patient is discharged [after treatment], on investigation basis or IPD basis whatever the case, I shall give you a flat 10 per cent cut on the investigation bill amount)." He further educates us: "Investigation mein 10 per cent hai flat theek hai … If it is a IPD case toh IPD mein we will give 10 per cent after deduction of pharmacy consumer bills or investigation (The cut on investigation is 10 per cent flat … Ok. If it is a[n] IPD case, then we will give 10 per cent [cut] after deduction of pharmacy consumer bills or investigation)." According to him, the hospital gives referral cuts depending upon the medical procedure employed for treatment. On angiography, for instance, you will get Rs. 3000 per patient, in case of surgery the payout may be anything between Rs. 15,000 and Rs. 25,000, and if a patient is admitted to ICU you get Rs. 1000 per day. A liver transplant fetches you Rs. 1 lakh in referral cut.
Instead of reply to queries on unethical practice, Jaslok Hospital claimed being a trusted name in healthcare for decades they are disheartened to receive Cobrapost queries. The reply mail can be found here.
Fortis Hospital, Bangalore: Assistant Manager (Unit Sales & Marketing) Parvez Sajjad
The Bangalore unit of the hospital chain has no different story to tell. Here, Assistant Manager Pravez Sajjad tells us we have approached the right person as he deals with referral cases. He explains: "See it [sic] everything depends upon the bill … referral cut jo hota hai … normally we make it on 5% on the total bill." The hospital has tie-ups with medical practitioners and small hospitals and nursing homes.
Fortis Hospital said, "As a responsible healthcare provider, we remain committed to be fully complaint to our legal and regulatory obligations. We will probe the matter at hand. We continue to provide quality healthcare to our communities in a transparent and ethical manner". Reply from can be found here.
Apollo Hospital, Bangalore: Senior Manager Nitej
The scenario at the Bannerghatta Road, Bangalore, branch of Apollo is no different from its Delhi counterparts. The only difference here is that the referral cut is paid through NEFT after you have to refer to them 10 patients before you become eligible for a cut. When Cobrapost reporter asks Nitej in what mode his referral cut will be paid and in how many days, Nitej enlightens in these no uncertain words: "NEFT … we have […] ten patients has to refer."
Apollo Hospital denied such practice and even claimed that they don't have any staff by name Nitej. Further, the detail reply can be viewed here.
Columbia Asia Hospital, Bangalore: Marketing Manager Kumar Hiramat
Kumar Hiramat, Marketing Manager, at the Bangalore unit of hospital chain, tells us: "Aise cut toh nahi rehega hospital ke saath hum log official tie-up kar lenge … jo bhi bill hoga uske upar 7 per cent (We cannot give you referral cut like this … we have to enter into a tie-up with your hospital … you will get 7 per cent of the total bill)." He has a fabulous terminology to define this kind of arrangements of mutual benefit: business to business tie-up. Kumar explains how we should move about the deal: "Monthly jaise aap patient bhejte hain referral letter ke saath bhejna aur idhar admission hoga discharge hone ke baad hum log bill forward kar denge usko apko ek invoice daal kar bhejna hai itna bill hua hai humara business to business agreement agreed percentage (You will be paid monthly. For example, you send a patient with a referral letter for admission. After his discharge, we will forward the bill and you have to raise an invoice according to business to business agreement … agreed percentage)."
Reacting to Cobrapost queries, Columbia Asia Hospital clarified none of their hospitals does encourage or solicit any business from third party. Reply from can be found here.
Narayana Hrudayalaya College of Nursing, Banglore: Marketing Manager Anthony Sagayaraj
Our conversation with Marketing Manager Anthony Sagayaraj of Narayana Hridaylaya Hospital in Banglore can be summed up in these words in which he explains how we will be given our referral cut of 10 per cent: "See another thing is you will not getting discount for the patients that is meant to be very very clear that discount is given to the patient than that will be deductive from your incentive…that is the one than we will start the process I will come over to your hospital meet doctor and accordingly we will take it further." There is no capping on cuts here, and payouts are made through NEFT. This 10 per cent cut is for all IPD cases.
Mallya Hospital, Bangalore: Business Development Manager T. Soma Sekhar
T. Soma Sekhar, Business Development Manager of Mallya Hospital in Banglore, is not so open about referral cuts initially, telling us he can ask the doctors concerned to get you some cuts for referring patients to them. But he soon gets into a talking mode and reveals all about this shady aspect of this business. Listen to what he says: "See if the patient get admitted 1lakh may be the approximately the patients bill out of which some 15 or 20 thousand the upper charges including … and everything procedure approximately 20,000 in that 20 he is going to share the … three specialty I will take the responsibility … oncology, cardiology and hip replacement." After assuring us of taking responsibility personally of the referral cases we will bring to his hospitals, he cajoles in no uncertain terms: "See what I would suggest you can be there in the same hospital itself give us good number of cases and even if you are coming here we are not get that self monthly refer us at least 5 cases of ortho, cardio and onco you will get one additional self that I can assure you … not management side only doctors if you come to Bangalore Bangalore is near to you with one year experience nobody will pay you 30 thousand here I am 10 year experience in this hospital after completing my MBA so one year experience no other hospital in – is consider so better be there try to get some additional revenue."
While clarifying, Mallya Hospital informed Cobrapost, they have suspended Mr.Somasekhar with immediate effect for his gross misconduct. The detail reply from them can be found here.
Flouting all ethics of a noble profession and the MCI guidelines that govern the conduct of this profession across India, such a malpractice is symptomatic of the rot that has set in with the government having unleashed corporate greed on a human need as basic and fundamental as health care. We all know doctors who ask their patients to undergo a myriad of tests, not always necessary, to arrive at a diagnosis, get a handsome cut ranging anything from 20 per cent to 40 per cent on every referral they make to various pathology labs across the country. Now, if the professional in white coat, who you trust with your life and limb, refers you to a super-specialty hospital, his intentions may not be as pious as you may think.
Better watch out!