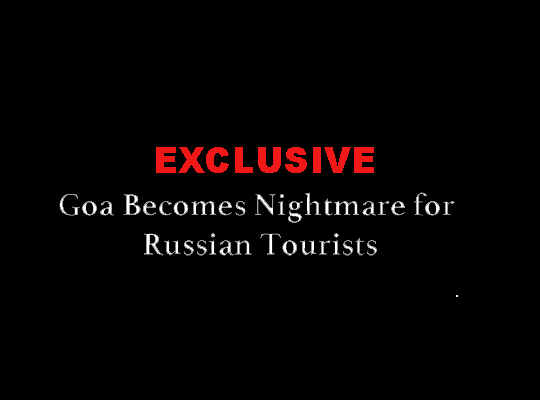 Cobrapost unravels how a realtor dupes scores of foreigners of crores of rupees promising them a second dream home in Goa  
New Delhi: A Goa based realtor Sanatan Financers & Real Estates has defrauded scores of Russian tourists of crores of rupees, a Cobrapost investigation reveals, while offering them plush villas and departments in Quepem taluka of Goa. Known for its scenic beaches, natural beauty, equally salubrious climate and a cosmopolitan culture, Goa hosts about 7 lakh foreign guests every year, according to the data released by Goa Department of Tourism. For many visitors, the idea of making Goa their second home is irresistible, and for many such tourists this idea became a trap in which they were ensnared by Sunil Kumar, the owner of Sanatan Financers & Real Estates, and his son Ankit Kumar.
To hook such gullible foreigners, the father-son duo launched an exclusive township in Sirvoi of Quepem taluka. Barely 40 km from the Goa international airport, the township was aptly christened Peace Valley for it was far from the hustle bustle of human life and was abound in greenery and natural beauty. Spread over an area of 75000 sq meters, Peace Valley would have 57 villas and 174 apartments, complete with swimming pool, tennis courts, golf course and helipad. To win the confidence of potential foreigner buyers, an agreement with Best Western Hotel and Resorts was also executed, and advertisements were placed in foreign media. This trick worked as enquiries, mostly from Russians, began to pour in, and to add credibility to their plan a Russian woman called Svetlana was hired for marketing. Those who visited Goa were shown around the proposed project site as a 8 percent rent back with proper maintenance of the properties was promised to them. Since Indian law does not allow foreigners to buy real estate, the father-son duo used a unique device to ensure that their buyers do not say no to their offer: They set up scores of companies and appointed the foreign buyers additional director to them each and their properties will be bought in the name of these companies. After they have paid all the dues, they were told, each of them will made full-time directors and they will be given full rights as owners of the properties they buy.
The proposition was irresistible and promising, and they ended up paying upfront crores of rupees to the father-son duo, mostly in cash, without getting receipts for all payments they made to them. Having no idea of Indian laws and legal system, the foreigners could do little but to find that they had been taken for a ride by the father-son duo as they were never given possession of the homes they had bought and paid for. Instead, when they confronted them, the father-son duo using their undue influence over state police got them implicated in visa violation cases. The result is that they not only have lost their money to these fraudsters but also have been languishing in Goa for many years now as they cannot go home and resume their normal life owing to these cases which are pending for adjudication. While they have not received any help from the Indian government, their government too has failed to help them. Since they are foreigners, they are not entitled to get any gainful employment, on the one hand, to keep both ends meet and they have to pay legal fee to their lawyers, on the other hand.
Cobrapost team met some of these buyers, all Russians, for whom buying a home in Peace Valley has turned into a nightmare with no end to their miseries in sight: Elena Matvienko, Maryte Maciuleviciate, Laima Drizniute, Dmitry Suprunyuk, Violetta Surovtseva, Galina Ismagilova and her husband Igor Ismagilova.
Elena Matvienko came to India in 2012 after she came to know about Peace Valley in an advertisement and paid Sunil Kumar Rs. 1.40 crore for a villa in Peace Valley which she never got. She visits Goa every year and returns disappointed. This is what she says about how she was defrauded of Rs. 1.40 crore by Sunil Kumar: "I want to buy some property in India….. I came to India in March of 2012, and I meet Mr. Sunil Kumar and Mr. Sunil Kumar told me it's impossible to buy property in India for foreign people but I can buy some Indian company. This company can be owner of some property he can do that… and foreign people can do some business here in India. I was agree about this situation and pay some advance to Mr. Sunil Kumar and signed the agreement about the company and told I pay all the money for share of this company and you will be the owner of the company and owner of the property. Then I go to the Russia and start to pay money for this agreement. I paid total … One crore forty lakhs. According to the agreement after I paid all money but Sunil Kumar failed to make deed of sale for my company. Company was with the builder… But I finish the pay money in May of 2015 and after that every years two times every year I coming to India and ask about dead of sale but everytme they…some time I took Sunil Kumar some time I took Ankit Kumar because the director of the company, all the agreement was signed by Ankit Kumar but every time they told me … now you have to pay more money but I paid more necessary money for other thing, for property, for formation of company, for maintenance charges, for taxes, for fee, for everything more than necessary. For deed of sale but they for permission it will be for the next time, we cannot do it now, you have to pay more money… and I don't get anything." Her narration is clear enough to tell us of how the father-son duo skimmed the gullible foreign buyers.
Maryte Maciuleviciate curse the day she met Sunil Kumar in February 2011 and fell prey to his fraudulent scheme. Sunil and his Russian colleague convinced her and her husband Vytautas Barsys to invest in Peace Valley, and after paying all the money demanded the couple wonder if they will ever get their dream home away from home. Taken by an advertisement on the Internet, Laima Drizniute came to India and ended up paying almost 47000 euros, in two installments, for her dream home in Peace Valley. She was asked to shell out extra money for furniture, TV and refrigerator during her first visit but found all these to have vanished upon her next visit. Drizniute neither got any home nor the documents of the company she was made owner of by the Kumars.
Dmitry Suprunyuk also paid 1.5 lakh US dollars for a flat in Peace Valley and 2000 dollars for furniture and other such stuff. In return, Suprunyuk got an unregistered agreement of the said property and he was never given any documents pertaining to his ownership of Selsia Holiday Homes Pvt. Ltd. and he cannot pursue the case unless he gets these papers to enable him to come to India on business visa.
However, Violetta Surovtseva, another Russian, managed to get the possession of the flat she had booked and paid for, after a lot of struggle. According to Surovtseva, the Kumars not only got him embroiled in a visa violation case but also got her attacked, with the intention of bumping her off, for which an FIR has been registered against the father-son duo. It is not the only case in which Kumars have been accused of criminal conduct. Elena Platnera has accused Sunil Kumar of inviting her to Goa on false promise of marrying her and then raping her. Sunil Kumar hit back by getting a case of visa violation registered against her. Platnera alleges that although Sunil is out in bail, he threatens her and pressuring her to withdraw the rape case.
Galina and her husband Igor Ismagilova came calling on Sunil Kumar after reading about Peace Valley in an advert. The Ismagilova couple shelled out Rs. 33 lakh for a flat and also gave away 9000 euros for furniture. And when they did not got a single penny of the promised 8 per cent rent on their flat or the ownership of the company, they approached the Goa police who simply did not help them.
These are some case studies which showcase how foreign tourists are being defrauded by realtors like Sunil Kumar and his son Ankit. One reason, according to social worker Swati Kerkar, is that these tourists do not know English or Hindi, and this makes people of Russian and German origin easy prey to such fraudsters.
The political executive of the state knows well of such cases of frauds but little is being done to help the victims and bring the culprits to justice. When Cobrapost team met the Curtorim legislator Aleixo Reginaldo Lourenco and sought his opinion on the issue, Lourenco while acknowledging such cases to have happened assured to take appropriate action in this regard.
An appropriate action is need of the hour to not only give justice to the victims of this large-scale fraud but also restore Destination Goa to be a Safe Destination for foreign tourists and restore India's image that has been dented on account of such activities of a few Indians. Regarding the issue we didn't get any reply from realtor Sanatan Financers and Real Estates pvt. Ltd.
[Video]