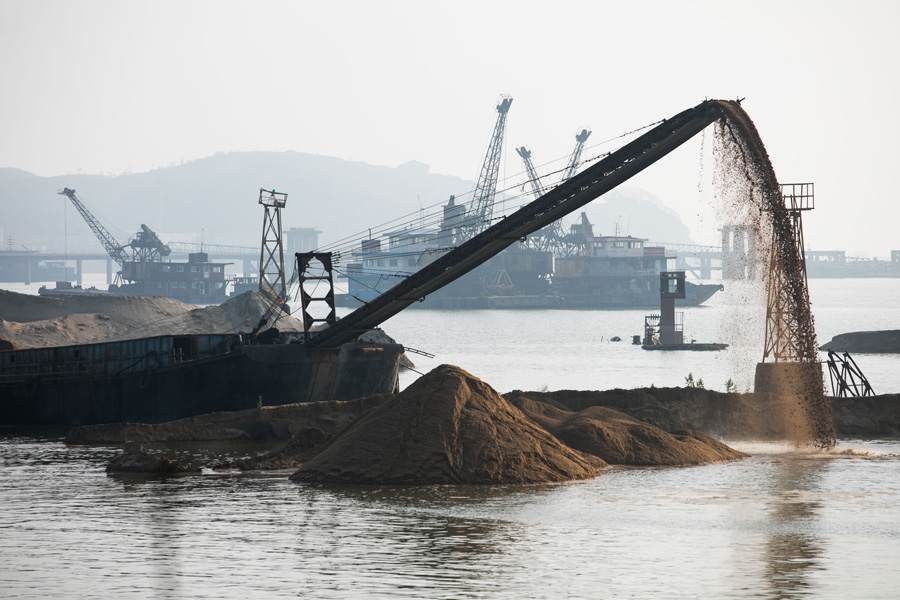 The global urbanisation boom is devouring colossal amounts of sand – the key ingredient of concrete and asphalt, reports The Gurdian. Shanghai, China's financial centre, has added 7 million new residents since 2000, raising its population to more than 23 million. In the last decade, Shanghai has built more high-rises than there are in all of New York City.
Hundreds of dredgers may be on the Poyang lake on any given day. The biggest can haul in as much as 10,000 tonnes of sand an hour, says The Guardian. According to recent study around 236m cubic metres of sand are taken out of the lake annually. That makes Poyang the biggest sand mine on the planet, far bigger than the three largest sand mines in the US combined.
"I couldn't believe it when we did the calculations," says David Shankman, a University of Alabama geographer and one of the study's authors.
Researchers believe that all that dredging is a key reason why the lake's water level has dropped dramatically in recent years. As per Shankman the lake's outflow channel has been drastically deepened and widened, nearly doubling the amount of water that flows into the Yangtze. The lower water levels are translating into declines in water quality and supply to surrounding wetlands. It could be ruinous for the area's inhabitants, both animal and human.
Poyang Lake is Asia's largest winter destination for migratory birds, including many endangered and rare species. Also, it is one of the few remaining habitats for the endangered freshwater porpoise. Studies have found that the sediment stirred up and the noise generated by sand boats interfere with the porpoise's vision and sonar so drastically they cannot find fish and shrimp to feed on. And already there are fewer fish to be found, say locals. The dredging destroys fish breeding grounds, muddies the water and tears up the fishing nets, says one local wrinkled fisherwoman.