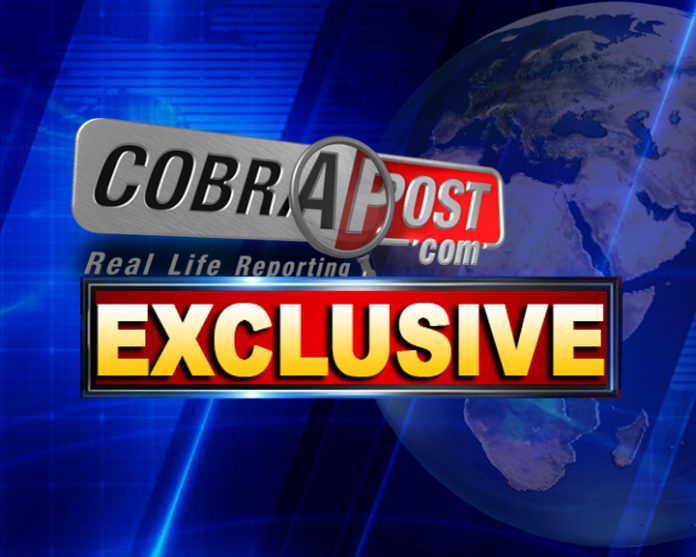 Special Report by Cobrapost And Newslaundry
For years, the people of Demchok in Ladakh have stood strong against Chinese aggression. The Indian government returns the favour by denying them tents crucial to survival in high-altitude and undermining their efforts.
By Shailesh Kumar
The village of Demchok, on the Indian side of the border with China in Ladakh, was the first to alert Indian authorities to the blatant act of incursion aided by China's People's Liberation Army (PLA) during the Chinese President's visit last year.
In a recent development that displays the Indian government's rank apathy, the village has been refused tents meant for distribution to rebos (nomads) under the central scheme run by the Union textile ministry. These tents are crucial to survival in high altitudes for the pastoral community of Demchok that has often served as the eyes and ears of the Indian defence forces on the Indo-Chinese border.
In a bizarre statement, Gurmet Dorjay, an Executive Councilor of Ladakh Autonomous Hill District Council (LAHDC), which administers the village, went on to claim that "there is not a single household in village Demchok".
Dorjay, by saying so, has questioned the very existence of Demchok and its people, who have not only protected India's border from Chinese intrusions over the years, but also bore the brunt of Chinese aggression time and again.
According to sources, Dorjay went all out to humiliate and harass Demchok villagers over the action of village Sarpanch Rigzin Tangay, who complained to Union Textile Minister Santosh Gangwar about Dorjay's alleged partisan distribution of tents. Tangay contends that Dorjay's actions are politically-motivated owing to the upcoming LAHDC elections in September. "Dorjay has distributed 167 tents in his constituency, Korzok, but only one in my constituency [Halka]," Tangay complains.
Rigzin Tangay Video
"We, at zero border, have been fighting with China and helping the Indian army fight them. We give them our horses to use…We have been helping them and we still do. We are ready to die for India. But if people like Gurmet Dorjay will treat us like this, we're not willingly to live at zero border", says a resident. Dorjay, however, strongly refutes Tangay's claims. In a lengthy press statement, in response to Tangay's complaint, he accuses Tangay and others of trying to defame him. "There is not even a single household in village Demchok," he said in his statement. Dorjay, went on to make allegations of impropriety against Tangay for having sold grazing land illegally. Dorjay has also lodged a first information report against Tangay for raking up the issue of partisan distribution of tents.
Demchok villagers protesting in leh against Executive Councilor(animal/sheep) Gurmeet Dorjay for pronouncing Damchok village uninhabited
Harassed and enraged, Demchok villagers have descended to Leh to protest against this action of the Executive Councilor of LAHDC. Demchok villagers confirm that all tents, which were set up last year in Demchok area within the Indian territory by Chinese civilians in collusion with Chinese PLA, continue to exist.
Demchok villagers facing Chinese civilians and PLA protesting Chinese intrusion in Demchok area in September 2014 during the president Xi Jinping's visit
In the last fiscal year, India's defence spend was Rs. 229,000 crore – one of the highest in the world. In terms of percentage of the country's Gross Domestic Product (GDP) and total central government expenditure, it amounts to 1.78 and 12.76 per cent respectively. In the recently released budget for 2015-16, the amount has gone up to Rs. 2,46,727 crore. To cut a long story short: India is serious about protecting its territorial integrity. Which is what makes the step-motherly treatment of a set of people who have always risked everything to protect the border even more curious. Also, Demchok is a strategically important location as Line of Actual Control (LAC) that divides India and China passes along the southeast side of the village and it only makes sense to be responsive to the needs of the locals who are often the first line of defence in the hostile environment. "In spite of persistent Chinese aggression, we have always hoisted the Indian tri-colour every Independence and Republic Day, but now even our existence is being questioned," lamented a Demchok resident. Upset by the Congress-run LHADC's high-handedness, all 43 families of Demchok (consisting of 140 people) have been squatting in Leh for almost a month now, demanding resettlement elsewhere.
                   villagers demanding resettlement and an apology from Dorjay
According to a source, the Deputy Commissioner has promised protesting Demchok villagers that the Demchok land belongs to them and he has requested them to go back to their village. However, villagers are demanding an unconditional apology from Executive Councilor and his resignation for speaking in a manner that ultimately caters to Chinese interests.
Video of a resident:
"People of Demchok village are protesting here because two days before they said no one lives in Demchok. It is very sad for us. We have been living in Demchok since 1947", says a resident. The Bharatiya Janata Party (BJP), which was vociferously critical of the United Progressive Alliance (UPA) government's lack of intent in dealing with systematic Chinese intrusion, has also made no efforts so far to make amends. The Chinese-controlled Demchok on the other side of the LAC has seen modern infrastructural development over the last few years, while Indian villages fail to even get tents from the government. Earlier, a centrally-sponsored irrigation scheme in Demchok was stalled by the PLA, which again destroyed a shed later built by Demchok villagers; but despite hostile Chinese aggression, these patriotic villagers stood firm to safeguard Indian border.
Video of resident:
China controlled part of Demchok
"…look at the Chinese side, how developed they are. They have got towers there. They have built two-storied buildings. They have got roads. Forget road, we don't even have any aid here. Till they don't sort it for us, till they don't settle us somewhere. We're not moving from here. We will keep protesting", says a resident. In view of Prime Minister Narendra Modi's scheduled visit to China next month, undermining the contribution of Demchok's people would only serve Chinese interests. Will the leadership of Congress reprimand its councilor for acting against Indian interests? The bigger question is why the central government is playing a mute spectator at a time when the BJP has had its first ever Member of Parliament elected from Ladakh.
Sailesh Kumar is an independent senior journalist and has worked with various media organisations including India TV, Star News, News24, NewsX