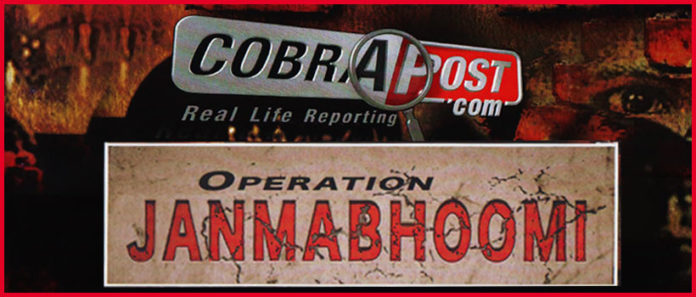 Below are the excerpts of interviews that Associate Editor K Ashish had with these conspirators and executors of Operation Janmabhoomi.
Sachidanand Sakshi Maharaj, fromer MP, BJP
Karsevaks were sacrificial lambs, not a single sadhu died
An accused in the Ayodhya case, Sakshi Maharaj is one of the most well-known faces of the Ram Janmabhoomi movement. His claims suffice to establish the important role he played: "Poore andolan se main juda hoon. Iss andolan mein se Advani ji ko, Kalyan Singh ji ko, Sakshi Maharaj ko, Uma Bharti ko nikal do zero hai andolan. Iss andolan ke chaar hero hain keval. Usmein sabse badi bhoomika Advani ji ki hai (I have been a part throughout the movement. You take out (BJP leaders) L. K. Advani, Kalyan Singh, Sakshi Maharaj and Uma Bharti from this movement and it is zero. There are only four heroes of this movement and Advani's is the most significant role)."
Although an exercise in self-aggrandisement, there is little exaggeration in what Sakshi Maharaj proclaims, for he was an important part of the proceedings both in 1990 when karsevaks were killed in firing on October 30 and in two years later when the Babri Masjid was finally demolished on December 6. Recounting the horror that visited the karsevaks when they made a determined move to demolish the structure on October 30, 1990, Sakshi Maharaj squarely blames VHP leader Ashok Singhal for the massacre of Ram bhakts.
The revelation he makes is enough to throw most hidebound of the tribe out of their wits. He explains how the restive karsevaks were being exhorted to launch an assault on the mosque by various leaders of the Jan Sangh and VHP and how he asked them to be brought to the basement of the Ram Katha Manch where he kept them locked. Singhal tried to intervene but Sakshi Maharaj stopped him: "Manch lagi huyi thi. Sadhu sab baithe huye the. Vamdev Maharaj apne kamre mein baithe the. Hum manch ka sanchalan kar rahe the humne kaha koi bhi nahi jayega. Humara aadesh tha tab tak Ashok Singhal ji aa gaye mike mere haath se chheen liya. Bhala karo ye aapne kya kar diya ye mera aadesh hai aapne aadesh diya hai toh koi nahi jayega. Fir main lad gaya aaj tak mere se asantusht hain (The dais had been set as sadhus sat there. Vamdev Maharaj was in his room. I was conducting the proceedings. I said nobody will go.
Ashok Singhal intervened and snatched the mike from me. What are you doing, he said, you say it is my order. If you give the order, nobody will go. I had an argument then. He is not on good terms with me till today)." Singhal went to seek the permission of Vamdev Maharaj and Sakshi Maharaj followed him there. Claims Sakshi Maharaj: "Toh mere saamne Ashok Singhal ji ne kaha Maharaj kuch log nahi marenge toh andolan upar nahi uthega toh aap agya do jaane ki … toh Ashok Singhal ji ne kaha … Vamdev ji ne kaha bache marenge toh bahut kaam kharab ho jayega … Bole Maharaj jab tak nahi marenge tab tak kuch hoga nahi andolan, tabhi barhega (Before me, Ashok Singhal said 'Maharaj, the movement would not gain momentum unless some people die'. This is what Ashok Singhal said. Maharaj Vamdev said it will be disastrous if children die.
Ashok Singhal again said the movement will not get a fillip until they die)." To further the cause of the movement, Ashok Singhal, according to Sakshi Maharaj, wanted to use karsevaks gathered there as sacrificial goats. He even ordered the karsevaks to launch an assault on the mosque, says Sakshi Maharaj, spreading the word that Singhal had left for Delhi although he was still in Ayodhya: "Lekin Ashok Singhal ji wahin par kahin underground the aur unhone ye aadesh de diya ke Masjid par charhai karo. Ab masjid par charhai karo toh humein pata hai tootenge log marenge Mulayam Singh goli chalwa dega (But Ashok Singhal was somewhere there itself, going underground. He ordered the karsevaks to attack the mosque. We knew if the mosque was attacked, people will die. Mulayam Singh will surely order firing)."
"Sabse pehle dhyan hona chahiye ki ek bhi sadhu nahi mara tha (You should notice that not a single sadhu died)," Sakshi Maharaj says. He goes on to explain why a single sadhu did not die: "Agar hum log jaate toh hum hi marte. Sabse pehle Sakshi Maharaj ko goli lagti, Vamdev ji hote unko goli lagti. Wo Kothari nahi marte wo Mahendra nahi marte toh hum sadhu gaye hi nahi. Usmein toh unke karsevak gaye jinme mukhya ache ache jinke state mein pehchan thi jaise Kothari bandhuon ki pehchan poore Bengal mein thi unko marwa diya (Had we gone there, we would have been dead. The first to die would have been Sakshi Maharaj. Vamdev too would have fallen to bullets.
Those Kothari brothers would not have died, nor would have Mahendra. We sadhus did not go. It was the karsevaks who went there upon his order, among whom were people who were well known in their home states. For instance, the Kothari brothers were well known in Bengal. He got them killed)."
Accusing both Samajwadi Part chief Mulayam Singh and Uttar Pradesh chief minister in 1992 Kalyan Singh as the biggest liars, Sakshi Maharaj goes on to make another damaging revelation about the killing of karsevaks like the Kothari brothers and Mahendra Singh: "Main uss din Ayodhya tha. Goli mujhe kyon nahi lagi main nahi jaanta, lekin ek bhi goli Mulayam Singh ne nahi chalwayi. Humare logon ne hi gin gin kar ache logon par goli chalwayi jo andolan ke praneta the main naam nahi loonga … humein pata hi nahi humare log hi karwa rahe hain ye toh logon ne kaha jab tak log marenge nahi andolan upar uthega nahi … agar goli Mulayam Singh ne chalwayi hoti toh Mulayam Singh ke jaane ke baad … BJP ki sarkar aayi goli chalwane walon par karravayi kyon nahi hui. Isase bada praman aapko nahi milega unko achi achi postein di gayi kyon kyonki wo kahin na kahin relation mein the jinhone goli chalayi … aur aur goli chalane mein aire gaire nathu khaire marne chahiye wo Rajasthan ke adhyaks hain Mahendra unke seene mein goli lagni chahiye, Bengal ke Kothari bandhu hain unke seene mein goli lagni chahiye kisne ye sunishchit kiya Mulayam kya jaanein Kothari kaun hain Mulayam kya jaanein Mahendra Nath kaun hain (I was in Ayodhya that day, then why didn't I take a bullet. I don't know. But it was not Mulayam Singh who ordered firing.
It was our own people who got our well-known people shot one by one. I will not name them as they are the founders of the movement … we did not know it was our own people who were playing this game.
Then, people said the movement will not get a fillip unless people die … if Mulayam Singh ordered firing then when the BJP government came to power why those who fired upon them were not punished. Instead they were awarded good posts because these people were their relatives.
When there was firing all sundry people should have died. Why Mahendra from Rajasthan and Kotharis from Bengal were shot? Who ensured that? How come Mulayam knew who the Kotharis and Mahendra were)."
If Sakshi Maharaj's allegations are true, they raise a pertinent question on the intent of the leaders like Ashok Singhal who wanted to exploit the karsevak to further the cause of Hindutva even at the cost of their lives.
Sakshi Maharaj recounts how the then Chief Minister Kalyan Singh was persuaded not to resign from his office on December 6, 1992. Sakshi Maharaj claims he was in constant touch with the chief minister on a hot line.
Kalyan Singh was hell bent to resign as he was not able to keep his word of not letting anybody harm the Babri, but the karsevaks had done just that. Although Murli Manohar Joshi tried to dissuade him from resigning, it was Sheshadri whose intervention worked. Recounts the episode, he thus says: "Toh wahan sabne kaha ki Sheshadri hi hain bas Kalyan Singh ko rok sakte hain. Toh mananiya Sheshadri ji ne Kalyan Singh se phone karke kaha ki main Sheshadri bol raha hoon kaha jo hona tha ho gaya jo nahi hona tha wo ab hoga. Iske liye main kuch nahi keh sakta iske liye jitna tumhe kasht hai utna humein kasht hai. Bahut request karke kaha istifa toh dena hi hai lekin thoda intezar karke do agar abhi tatkal istifa doge toh yahan bahut badi ghatna ghat jayegi bache mar jayenge (Everybody there suggested that only Sheshadri could stop him. So, Sheshadri phoned Kalyan Singh, telling him what happened has happened. But what should not happen will happen now. I can't give you any explanation but I am as sad as you are. Requesting him time and again, he said if he wanted to resign, he should wait for some time. If he resigned immediately, the worse will happen. Children will die)." This is how Singh was persuaded to wait until the Babri was torn apart and a platform was erected where Ram Lala was installed.
In this interview, Sakshi Maharaj makes another startling revelation with regard to the role former Prime Minister P.V. Narasimha Rao had in Babri demolition. Naming his spiritual guru Swami Vishwesh, the Shankaracharya of Udupi, Sakshi Maharaj claims: "Toh uss danche ko girane mein meri jankari ke anusar jo sabse badi bhoomika thi wo Narasimha Rao ki thi (So, according to the information I have, Narasimha Rao played the most important role)."
He recounts how the Udupi Shankracharya exhorted his disciples from Andhra Pradesh and Karnataka saying in Kannada 'kuduseva, kudseva'. His disciples were the first to climb on the domes of the mosque. Sakshi Maharaj says: "Main sakshi hoon uss ghatna ka bhi jiske sandharb mein aap aye hain bahut hoshiyari se iski mujhe jaankari nahi hai kis-kis ki milibhagat thi kum se kum BJP ki toh nahi … Udupi ke Shanakracharya mukhya dwar par khade the aur sab Karnataka aur Andhra ke karsevak aa gaye the jo Hindi bhi nahi jaante the sarvapratham karseva shuru hui aur jo log charhe wo sab Karnataka aur Andhra ke log the (I am witness to that event you have come to inquire about … I don't know who else were involved in it. At least the BJP was not involved.
The Udupi Shanakracharya was standing on the main gate (of the mosque) and all karsevaks from Karnataka and Andhra had gathered there who did not know Hindi. It was the people from Karnataka and Andhra who initiated the karseva and climbed the mosque)."
All the leaders tried to reason with them but to no avail. Says Sakshi Maharaj: "Sheshadri ji ne bhi rokne ka prayas kiya parantu wo jo Shankaracharya the Udupi ke Narasimha Rao ke guru wo wahin ki bhasha mein keh rahe the kudseva, kudseva pata nahi kya keh rahe the bol rahe the kudseva, kudseva (Even Sheshadri tried to stop them but that Shankaracharya of Udupi, the guru of (prime minister) Narasimha Rao, kept on goading them saying 'kudseva, kudseva' in their local language. Don't know what it meant. He was saying 'kudseva, kudseva')."
At another place, Sakshi Maharaj reiterates what he claimed in our first interview: "Udupi ke Shankaracharya Jagatguru Vishweshteerth Ji Maharaj … ye Narasimha Rao ke guru the. Narasimha Rao iss duniya mein nahi rahe ye toh aaj bhi hain … inhone Narasimha Rao ko taiyar kiya tha. Toh jo kuch wahan hua inhone sab aise log mauke par lagaye the jo Hindi bhashi nahi the (There was Udupi Shankaracharya Jagatguru Vishweshteerth Ji Maharaj, the guru of Narasimha Rao, who persuaded Narasimha Rao, who is no more, for all what happened that day. He had deputed such people there who did not know Hindi)."
Sakshi Maharaj claims that he had made submission about it before the Liberhan Commission.He again recounts his encounter with Ashok Singhal on Ram Katha Manch that day and what Singhal had said to Vamdev evoking the sacrifices that the likes of Bhagat Singh made for the freedom of India: "Unka kehna tha ki bina balidaan ke kuch nahi hota hai keval taliyan peetate raho … Ram-Ram karte raho isase kuch nahi hona. Ram ko bhi Sita chahiye thi toh Lanka par charhai karni padi, yudha karna pada (He said that without sacrifice nothing will happen. You keep on clapping and chanting Ram-Ram, nothing will happen. Even Ram had to invade Lanka and wage a war to get Sita back)."
Sadhvi Uma Bharti, former BJP MP
Chief Minister of Madhya Pradesh, The Belladona's shove to demolish the Babri Masjid
When she saw blood of karsevaks on the streets of Ayodhya who were killed in police firing in 1990 she tonsured her head taking a vow to see a Ram Temple there. Known as the fire-spitting Belladonna, it was Sadhvi Uma Bharti who instigated the lakhs of karsevaks with her war cry "ek dhakka aur do Babri Masjid tod do" (give one more shove to demolish the Babri Masjid), thus fulfilling a part of her vow.
Reminiscing of the events of the day when karsevaks such as the Kothari brothers died in 1990, she bluntly says that they died of failure on the part of their leader Vinay Katyar: "Kothari bandhi ussi jatthe mein doosre wale mein jo leaderless tha … unko becharon ko samajh mein nahi aya kya karna hai kyonki leader nahi tha uss jatthe mein do-dhai hazar log the usmein leader tha hi nahi. Kehna nahi chahti hoon Vinay Katiyar tha. Vinay bhag gaya (The Kothari brothers were in the second group which was leaderless. Poor fellows could not understand what to do.
There were about 2,500 people in their group but they did not have a leader. I did not want to say it but their leader was Vinay Katiyar who fled the scene)." She goes on to blame Vinay Katiyar for the death of karsevaks: "Ye baat main on record nahi bolti hoon lekin ye sabko pata hai ek jattha mujhe diya gaya tha ek Vinay ko. Jo log mare the wo Vinay ki galti se. Galti bhi nahi wo bhagdar machi wo gali chhoti thi. Galti matlab wo bhag gaya chhodkar bhag gaya, toh logon ke samajh mein nahi aya ke hum jayein kahan. Toh ussi taraf bhag liye jiss taraf police lagi the (I don't ever share this fact on record but everybody knows that I was given a group to lead, so was Vinay. The fellows got killed because of Vinay's mistake. Actually, there began a stampede and the byelane was narrow. By mistake, I mean, he fled the scene abandoning his group. So, people could not understand where they should go. Coincidentally, they turned toward a lane where the police stood guard)."
She also debunks the canard spread by VHP that it was the Kothari brothers who had hoisted the flag on the mosque: "Nahi koi jhanda nahi fehraya tha 31 October ki jo karseva huyi thi usmein Vasudev Bhandari ne jahnda pehraya tha (No, they did not hoist any flag. It was Vasudev Bhandari in the karseva on October 31)." The police had gunned him down.
Admitting to her presence on the Ram Katha Manch on December 6, she says: "Chhe December ko hum log manch par hi the. Wahan Ram Janmabhoomi ka sthan wahan se 500 metre door tha. Toh humara usko todne ka koi nahi tha … Mujhe aaj tak samajh nahi aya kiya kisne. Bas ye tha ki PAC state government ki thi. PAC ko order nahi mila firing ka. Kalyan Singh uss samay the (On December 6 we all were on the dais. Ram Janmabhoomi was 500 metres away from it. There was no plan to demolish it … I have not got it till today who did it. The only thing that mattered was there was PAC of the state government there, but it was not given any order of firing. Kalyan Singh was then chief minister)."
Dharmendra Singh Gurjar, former Convenor of Bajrang Dal
Gwalior, Madhya Pradesh, Sacrifices , deception and fanatical suicide squads
His initiation into the Hindu Brotherhood began with his induction into ABVP, the student wing of BJP. He graduated into a firebrand leader of Bajrang Dal from Gwalior, Madhya Pradesh, as the Ram Janmabhoomi movement began to take shape in mid-1980s and attained a critical mass appeal in the early 1990s. Dharmendra Singh Gurjar was present in Ayodhya on both occasions: in 1990 when scores of karsevaks were killed in police firing after they scored a symbolic victory by entering the disputed site against government orders, and in 1992 when the karsevaks pulled down the Babri Masjid. "Dono baar the bayannave mein dhancha gira (I was there on both occasions. The structure was brought down in 1992)."
Now, a BJP leader, the erstwhile Bajrang Dal leader has many shocking revelations up his sleeve. According to him a month-long camp was organized in Sarkhej area of Gujarat in 1990, in which 28 activists participated, two from each state. In the course of this camp, the participants were given army-style training, as admits Gurjar: "Wo ek training di gayi thi hum logon ko … army training … lekin hum logon ko aise training di gayi thi deewar par charh dhanche par charh jaayein (We were given a training … army training … we were given the training to scale walls so that we could scale the structure)." Gurjar is quick to recall the names of some of the participants: Hari Lal Parikh from Rajasthan, Arun Khanna from Punjab, K. Nagarajan from Tamil Nadu, Anoop Tiger from Bihar, Dhananjay Pathak from Uttar Pradesh, Ramesh Pratap Singh from Basti, Pratul Das Satwade from Maharashtra and Harish Bhatti. In addition to army training, they also received ideological education from the likes of Acharya Giriraj Kishore, Acharya Dharmendra, Dr. Praveen Togadia and Jaibhan Paweya.
A suicide squad of 1,200 was put in place to lead the mob and bring down the mosque on December 6. Recounting the events of the day, Gurjar says: "Hum log jo 12 the ismein hum logon ko ismein jimmedari di gayi thi ki aapko iss movement ko rokna hai aur isko iss tareeke se rakhna hai kuch varisth adhikari. Lekin wahan ki stithi aisi ho gayi thi ki humko 12 jo kali kali bandhi gayi thi humare sir par toh harek prant se log the jo iss training mein toh logon ki ye bhoomika thi ki aage aap log rahenge. Balidani jattha banaya tha (There were 12 people in this squad. We were given the responsibility by some senior leaders to control the movement. But the situation went out of control. We all 1,200 were wearing black bands on our heads. All the people from each state who were part of this training were supposed to lead the assault from the front. We had formed a suicide squad)."
The chilling details do not end here.
In all, there were around 1,200 activists who headed the assault the call for which was given by Ramesh Pratap Singh from these chosen 1200. Claims Gurjar: "Toh 12 mein se Ramesh ji ne ek nara lagaya 'Jai Sheshavatar'. Uske baad chal pade fir public bhi toot padi (Then from 12 of us, Ramesh gave the slogan 'Jai Sheshavatar' and we began moving forward. With us public also began its assault)."
Then, what followed is history.
According to Dharmendra Gurjar, the karsevaks had become so frustrated and were so livid at the willy-nilly approach of certain quarters in the leadership which was spearheading the movement that they would not settle for less than the demolition of the mosque. Then, they had leaders like Vinay Katiyar, Uma Bharti, Ramji Gupta, Jaibhan Singh and Acharya Dharmendra who added fuel to the simmering discontent by deciding in a secret meeting to bring down the structure the following day. "Unhone 500 hammer, 500 fawde, 500 gainti raaton raat guptroop se wahan se manga liye the Kanpur se (They had secretly got 500 hammers, 500 spades and 500 pickaxes from Kanpur overnight)," reminisces Gurjar. It was Vinay Katiyar who arranged all the tools. Gurjar claims: "Vinayji ne vyavastha karai thi, Ramji Gupta usmein rahe aur Umaji thi, Paweya ji, in sabki sahmati rahi (Vinay arranged all this. It was done with the consent of all leaders like Ramji Gupta, Uma and Paweya)."
According to Gurjar, even petrol bombs were used to dismantle the walls of the structure: "Matlab log petrol bomb jo the petro laga kar andar se kood rahe the bhag rahe the (I mean, people were jumping out of the structure after planting petrol bombs there).
With a friendly BJP government, the local administration was ready to lend a helping hand: "Prashasan to uss samay se hi stithiti mein tha kuch karne ki mein tha hi nahi. Prashasan ke logon ne bhi karsevakon ka sahyog kiya (The local administration was not in a position to do anything. Members of the administration even helped the karsevaks)."
One thing that rankles Gurjar the most is the neglect of the true karsevaks by the Sangh brotherhood and the BJP governments which rode to power after the Ram Janmabhoomi movement. He pours out his heart for all those who were used as sacrificial goats at the altar of power politics, be it Puttu Baba who got buried under the rubble of the Babri in 1992 or the two Kothari brothers who were killed in police firing in 1990. Puttu Baba from his home state of Madhya Pradesh preferred death to leaving the karseva which was in full swing, despite Gurjar trying to pull him out as he saw the dome of the masjid was going to cave in under the onslaught of the frenzied mob. Puttu Baba continued working from below inside the mosque, saying in the words of Gurjar: "Bole mujhe bhagwan ke liye marna hai … Bole Ram ke liye jeena hai Ram ke liye marna hai (He instead said I want to die for God. I want to live for Ram and die for Him)."
Gurjar continues to vent his anger at the deception of the leaders of Hindu right wing leaders: "Vastavikta ye hai ki wo zunoon tha uss samay saikron Hindu yuva aur desh ke kai log usase jude uss andolan mein aur dil se dimag se aap ye keh sakte hain poore tan man dhan se poori tareh log jude … vastavikta ye hai desh ke netaon ne ek zunoon paida karke unka upyog kiya aur dharatal pe vastavikta mein koi kaam nahi kiya uss samay ke yava unse jude jaise Kothari bandhu maare gaye … Kothari bandhu aaj gayab ho gaye unka koi naam nishan nahi hai humare yahan Bhopal mein Sanjay Gurjar maara gaya uska koi nahi Puttu Singh Baba maare gaye unki aaj bhi Madhya Pradesh mein kya kahin bhi ek bhi phool charhane ke liye unki varshi nahi manayi jaati aise kai karykarta hain jo uss andolan mein shaheed huye aur shaheedon ke parivaron ko bhool gaye … Ram Janmabhoomi ke humare bade-bade neta baat karte hain satta mein bathne ke baad karyakartaon ko hi bhool jaate hain sachai toh ye hai chahe wo Madhya Pradesh ke neta hon chahe wo Delhi mein baithe humare varisth neta hain (The truth is that it was total madness. Hundreds of Hindu youth and other people put their hearts and minds in this movement. In other words, they were associated with it with total devotion.
The truth is the leaders of the country created hysteria but they did nothing on ground. There were many youth who were associated with them, like the Kothari brothers, who sacrificed their lives for the cause. Today, Kothari brothers are eclipsed from their memory. From Bhopal, Sanjay Gurjar was killed. Then, Puttu Singh Baba also died. Nobody offers even a single flower to them on their death anniversary, either in Madhya Pradesh or elsewhere. There are many such activists who died in this movement but all such martyrs have been forgotten, so have their bereaved families. All our big leaders who were associated with Ram Janmabhoomi movement talk only big, whether they are the leaders of Madhya Pradesh or our senior leaders in Delhi. This is the truth)."
He is relentless in his criticism of Hindu leaders who rode to power with the help of this movement: "Jo log satta mein bahe aaye wahan se karseva jinhone manch se ki hai wo log Madhya Pradesh mein Shivraj ki sarkar mein Madhya Pradesh mein anand le rahe hain aur jin logon ne imandari se kaam kiya hai karseva mein jo log gaye hain un logon ko koi nahi pooch raha hai (Those who did the karseva sitting there on the dais and then rode to power are now enjyoing life in the Shivraj (Singh Chouhan) government in Madhya Pradesh. But those who honestly worked for the karseva are seldom remembered)."
When the reporter draws his attention to what their leaders say if that they had given a call only for a symbolic karseva on December 6 but the karsevaks brought down the Babri instead, Gurjar retorts: "Ye sab bewaqoof banane wali baatein hain isiliye toh humara desh bewaqoof banta aa raha hai … pehle hum jawani ke josh mein the … junoon mein the ek junoon tha guzar gaya … logon ne upyog kiya aur chhod diya use karke (All this talk is an exercise in making a fool of people … this is why our countrymen are made a fool every now and then (by such leaders)… in those days I was being driven by the enthusiasm of youth … I was driven by plain madness … it was plain madness which has passed … people used us and threw us out after using us)." Drawing an analogy, he says leaders use us in the same manner as we use tobacco. What he says show his complete dischantment with the proponents of the Hindutva: "Aise logon ke sath kiya bees saal baad logon ki zaroorat nahi ya jo bees saal baad naye yuva honge unka upyog karenge (This is what they did. After 20 years (of the Ayodhya movement), they don't need people like us … or they will use the new generation of youth after 20 years)."
Gurjar does mind naming such leaders, and one such leader is Jai Bhan Singh Paweya.
Gurjar also tells how the training camps were used to brainwash the participants with incendiary slogans and hate speech. Saying that as such there was no strategy for demolition chalked out in these camps, he comments: "Nahi, wahan toh samanya training huyi thi jitni Bajrang Dal ki Durga Vahini ki jo training hoti hai wahi huyi thi aur bhashano mein toh amooman kehte hi hain sabhi neta log kehte aaye hain 'Teen nahi toh tees hazar/Nahi bachegi ek mazar' bhavanyein bhadkai aur bade neta kya karte hain ek zunoon tha paida hua khatma ho gaya (No, it was a routine training as is given in Bajrang Dal and Durga Vahini and the leaders in their speeches used to exhort us with 'If not three (temples), we will raze 30,000 (mosques)')." Behind the scene they would say: "Parde ke peeche har varg mein bhashan mein yehi kehte the ki ek dhakka aur do Babri Masjid tod do (Behind the scene, they in our classes would say: 'Give it one more push, pull down the Babri Masjid')."
Gurjar tells that there were two meetings, one on the night of December 5 and the other at about 10 in the morning the next day, and in both a timeline was set for demolition by all leaders present. "Aur dono meeting mein ye tay hua tha ki dhancha todna hai 12 bajkar 30 minute par dhancha tod diya jayega (In both meetings, its was decided that the structure shall be destroyed at 12.30)," claims Gurjar.
Ramesh Pratap Singh, Vishwa Hindu Parishad
Training camps and precise military strategies
He is known as one the most militant faces of the Hindu brotherhood, who was photographed and videoptaped conducting drills on the Neela Teela in Ayodhya, rehearsal sessions simulating the demolition of Babri. Two decades later, Ramesh Pratap Singh is a beaten and dejected man at his neglect by the organization and its leadership he swore by, although he does not regret what he did. It is this sense of pride that propels this Bajrang Dal leader from Basti to reveal everything leaning nothing to guess with bluntness of a die-hard.
Ramesh Pratap accepts the role his outfit played in the demolition: "Haan mandir andolan mein Bajrang Dal ki aham bhoomika rahi dhancha girane tak samaj mein naujawanon ko jodne ka (Yes, Bajrang Dal played an important role in the movement for Ram Temple till the demolition of the structure, to recruit youth for the cause)." For this purpose, a training programme was conducted in far off Gurjarat of which he was a part: "Gurjarat mein training di gayi thi Bajrang Dal ki usmien poore desh se 38 log training mein gaye the 38 log har prant se poore desh se VHP ki drishti se jo prant banaye gaye hain. Ek Durga Vahini aur ek Bajrang Dal karke aisi upasthiti wahan hui thi. Bais din ki training thi aur woh training Gurjarat ke Sarkehj mein hui thi ye CBI ke usmein bhi aya hai vistar se nahi de paye hain (The training for Bajrang Dal was given in Gujrarat in which 38 zones, divided so by VHP, had gone to attend it, one participant from Durga Vahini and Bajrang Dal each. The training ran for 22 days and was held in Sarkhej area of Gurjarat.
Even the CBI has mentioned it in its chargesheet but not in detail)." After the call for the march to Ayodhya for karseva was given, people had started coming in droves there and by December 5, according to Ramesh Pratap, three lakh had arrived.
In a move that only a military strategist can devise, all accommodation in the holy city had been occupied by these devotees to keep the law and order machinery at a distance from the field of action. See what this militant Hindu fanatic says: "Toh usmein pehli tarikh se hi log aana shuru aur paanch tarikh tak saare log ikattha ho gaye bahut sankhya mein. Wahan sab awas bana liye the hum logo ne Janmabhoomi ke aas-paas saare mandir book kar liye the rahne ke liye. Ayodhya mein kahin bhi kisi bhi prakar se force ke rukne ke liye jageh humne nahi chhoda tha (So, from the day one people had begun to descend in huge multitudes. We had erected dwellings around the Janmabhoomi and all the temples had been booked. We had spared no accommodation for the police force in Ayodhya)." He continues: "Jo kendra se force bhejegi Kendra sarkar usko rukne ke liye ek bhi sthan humne nahi chhoda tha saare humne bhar diya tha (If the central force sent its forces, we had left no space to station it)." It was part of a well-thought out strategy. "Ranneeti ke tahet tha (It was part of strategy)."
It worked as the police force had to be stationed at Faizabad across the Saryu, and it is nobody's guess what its implications could be in such explosive situation as the Ayodhya imbroglio.
Ramesh Pratap continues: "Toh pehli tarikh ko humko adesh huwa ab aage jaiye woh training huyi thi uss training se hi jude logon ne toda … pehli tarikh ko humko humare adhikari ne adesh diya jaise aap aur hum baithe hain ki iss baar iss danche ko tumhein todna hai kaise todoge ye tum jano … vyawastha jo chahiye jo kisi bhi cheez ki avashayakta ho usko batao. Uske liye ek aadmi recruit kar diya gaya (So, on the first day of the month, we were ordered to move forward. It (the Babri) was to be broken by those who had received training … on the first day of the month, our officer ordered us, sitting by my side like we are, that you have to break the structure. How you break it, it is your business … he said tell me whatever arrangements you want to be made, tell me whatever you need. For this they had recruited a man, already)." The man who was entrusted with providing all what was required to bring it down was, in his words, "Ramji Gupta."
The countdown had begun.
Ramesh Pratap was told by this official, "Ye saara saman aapko denge. Humari baithak kaun lega ye bhi tay kar liya ye the Dr. Durg Singh Chauhan. Iss samay Dehardun mein vice chancellor hain (He (Ramji Gupta) will provide you all the stuff. It was also decided who will oversee our meetings. It was Dr. Durg Singh Chauhan. At present he is a vice-chancellor in Dehradun)." Repeating this name, Ramesh Pratap expresses his fear: "Dr. Durg Singh Chauhan. Kahin ye sab batane se sankat na aa jaye hum par (I am afraid it may bring trouble if I tell you all this about Dr. Durg Singh Chauhan)."
He nonetheless continues with his revelations. He says his outfit had its first meeting on day two of the month in the premises of Ram Katha Manch in Ayodhya: "Ram Katha Manch uske neeche hall hai wahin humari baithak huyi uss baithak mein hum paanch jo humari prashikshit logon mein se paanch the paanch ke baad chatha Ramji Gupta aur Durg Singh Chauhan. Humare adhikari ne humse milne ke baad unka sampark wahi unka adesh tha baithak lenge Durg Singh Chauhan aur karravai jo bhi aapko karna ho aap kya karoge rachna kya karoge theek hai wo parde se huth gaye (There was a hall in the basement of Ram Katha Manch where our meeting took place. There were five persons from among those who had received training in this meeting. The sixth person was Ramji Gupta and then there was Durg Singh Chauhan. After meeting with us this office bearer told us Durg Singh Chauhan would be our contact point and he would coordinate all the meetings. Decide whatever you want, how you will form it. After that this official disappeared from the scene)."
You must be wondering, like us, who this mystery man was. "Unka naam bhi bataoon (Shall I tell his name also?)," asks Ramesh Pratap, and upon our prodding, goes on to reveal who this man is: "Mananiya Champatrai. Ashok ji ke saathi sahyogi Ashok ji ke VHP ka sara bhar Champatrai ji ke upar tha Champatrai (Honourable Champatrai, comrade and aide of Ashok (Singhal). It was Champatrai who looked after all functions of VHP)."
The select five trained saboteurs of Bajrang Dal chosen for the job were Dharmendra Singh Gurjar, Hariya Lal Parikh from Rajasthan, Arun Khanna from Punjab, K. Nagarajan from Tamil Nadu, Arun Kumar from Bihar, and Ramesh Pratap himself. It was in this meeting where it was decided to form Laxman Sena. Ramesh Pratap himself describes it: "Toh do tarikh ko humen paanch bulaye Madhya Bharat se Dharmendra Gurjar, Gwalior se hai Dharmendra Singh Gurjar, Rajasthan se Hariyalal Parikh Punjab se Arun Khanna, Tamil Nadu K. Nagarajan … K. Nagarajan mulzim nahi hai, Arun Kumar Tiger Bihar Jharkhand ek Ramesh Pratap ho hi gaye (On day two of the month we called the select five. Dharmendra Singh Gurjar, from Gwalior, Madhya Pradesh, Hariya Lal Parikh from Rajasthan, Arun Khanna from Punjab, K. Nagarajan from Tamil Nadu, K. Nagarajan is not an accused in the case, Arun Kumar Tiger from Jharkahand (then part of) Bihar and me Ramesh Pratap)."
Recounting how it all took shape, without uttering a single word about the proposed army, he says: "Humne baithak ki baithak mein ye tay kiya gaya ki aap apne prant se sankyha nikaloge karyakarta theek. Iss prakar se nikalna hai Sangathan Mantri ko bhi pata nahi chale … kisi ko bhi pata na chale. Aise aap pachas–pachas log apne yahan se nikaloge fir unhi mein se daswen ke baad igyarahven ko pramukh banaya jayega. Dus dus ki toli banayi gayi, igyarah-igyarah ki ek pramukh. Iss tareh se rachna kar di gayi sangathan ki naam rakha gaya Laxman Sena (We held the meeting in which it was decided that wewould select workers from our respective regions and in a manner that even the parties' organization secretary does not get a whiff of what is happening … nobody should come to know about it. This is how you will choose 50 workers each from your regions. After the tenth, the eleventh will be appointed head of the group. This is how we formed groups of 10 workers each with a head. The organization thus formed was named Laxman Sena)."
Those selected were of good build, and the task was cut out for each group which included, among others, a daily drill at Neela Teela. "Neela Teela hai wahin par Ram Janmabhoomi ke paas Neela Teela par drill khudai abhyas ek ghanta matlab varjish karate the ek ghanta karana wo karna hi hai theek hai … paanch tarikh ko sabko duty bant gayi jo samaan humne list diya itne hammer chahiye, kitni chainiyan chahiye, kitna rassa chahiye. Ye humko teen tarikh ko hi mil gaya, kitna chana bhigoya rehna chahiye nashte mein sara kuch planning mein koi dikkat nahin. Fir humne duty tay kar li kaun log shuruat kar aage barhenge kaante aapne photo mein dekhe honge rassse mein charh karke (There is this Neela Teela in the proximity of Ram Janmabhoomi where we would hold drills, would practice digging and would do exercises for an hour daily. This was mandatory … on day five duties had been assigned to each group. We had given them a list of how many hammers we need, how many chisels we need and how many ropes we need. We had got all these tools on day three. It was also planned how many grams should be soaked in water for breakfast the next day. There was nothing left in planning. Then we assigned duties, who will initiate the move, and you must have seen in the photographs of us practicing rope climbing with grappling hooks)," reminisces Ramesh Pratap.
To signal action, a codeword in the form of a slogan was also decided: "Saare upkaran humne taiyar kar liye sabki duty bant gayi ye tay ho gaya ki jab hum nara bolenge 'Jai Shesahavatar' code tay ho gaya. Jisko jo duty hai apni karravai chaloo kar dega fir apne koi bhi neta adhikari rokne ke liye bolenge kisi bhi bhasha mein lekin ye bina break ki gaari khulegi rukne ki nahi apna kaam (All the equipment was ready with us. Everybody had been assigned their duties and a codeword 'Jai Shesahavatar' had been decided to signal every group to act according to the duty assigned. Then, nobody would stop if any of our leaders asked them to do so. This was going to be like an uncontrolled vehicle rolling down without brakes)."
The directive was loud and clear: They would not stop once it begins, no matter how senior a leader asks them to do so. Says Ramesh Pratap: "Ruk jao toh humko sunana nahi humko apna kaam karna hai (Even if some leader asks us to stop we would not listen to him)."
He recollects the names of all the leaders who were present there on Ram Katha Manch on 6 December : "Mananiya Ashok ji Singhal, Sadhvi Ritambhara ji, Uma Bharti thi, Advani ji the, Vinay Katiyar the, Brij Bhushan the (Ashok Singhal, Sadhvi Ritambhara, Uma Bharti, Advani, Vinay Katiyar and Brij Bhushan all were there)." But he did not meet any of them for obvious reason: "Hum apne kaam mein lage the (I was busy doing my duty)."
Seeking to confirm what he claimed, the reporter asked him if he too was there on December 6.
"Chhe December ko hi toh toda tha (We broke it down on December 6)," retorts Ramesh Pratap, somewhat peeved.
He now goes about telling what he did that day: "Pehle toh second number par charh gaye the … pehle number jo kooda ladka wo Gwalior ka hi hai Gwalior ka ladka hai naam nahi yaad pad raha hai wo upar ki taraf kooda aur jab bheed lagi toh hum logon ko rokne ke liye kuch logon ko lagaya tha ki bheed na udhar jaye idhar se karsevak baloo daalkar chale jayen ussi mein jhagda ho gaya ussi samay humne bol diya 'Jai Sheshavatar' … waqt aa gaya kaam kar do (First, I scaled the second dome (of the mosque).
There was this boy from Gwalior. I am unable to recall his name. He jumped on the first dome. Seeing him the crowds surged towards it, our cadre who had been stationed there to stop karsevaks from coming to this side, told them to offer sand and leave. This resulted in a scuffle. I shouted 'Jai Sheshavatar' signalling it was time to finish the job)."
The boy who had scaled the first dome of Babri, Ramesh Pratap is able to recollect later on, is Ravindra Singh Kushwaha, who is now a lawyer at Gwalior.
Speaking of the training they received in Gurjarat, Ramesh Pratap says: "Vyavasthit training jiss tareh sena mein di jaati hai commando course karaya jata hai (This was a well-organized training on the lines of the army, like they are given a commando course)." This commando-like training was imparted by retired military and police officers but he is unable to recollect their names: "Ab VHP ke adhikari toh wahan the ab sena ke retired logon ka naam kahan yaad rehta hai Gorkha the jo training kara rahe the Basant Narayan Apte ho sakta ho zinda hon DIG retired, rifle ki training dete the … Narayan Apte Gurjarat ke hi hain Ahmedabad ke (The office bearers of VHP would be there. How can you remember the names of those retired officers of the army? One was a Gorkha who was imparting the training. Retired DIG Basant Narayan Apte gave us rifle training. He might be still alive. He is from Ahmedabad, Gurjarat)."
Both VHP and RSS office bearers — such as Kukrekar, Acharya Giriraj Kishore, Mohan Bhagwat and Mohanji Joshi — would come to oversee the training. Ashok Singhal came on the day when the training was completed. Says Ramesh Pratap: "Haan VHP ke Kukrekarji … Acharya Giriraj Kishore the … poora time Mohan Bhagwat … haan aur fir Mohan ji Joshi ye aate-jaate the last mein Ashok ji Singhal aaye the (Yes. Kukrekar from VHP, Acharya Giriraj Kishore, Mohan Bhagwat would be there full time, yes, and Mohanji Joshi who would come and go. Ashok Singhal came on the last day)."
The police slapped a case on Ramesh Pratap and he was arrested by the CBI from his village. Since then he is defending himself in the courts, with no help from his organization. Says Ramesh Pratap, who is now suffering from a kidney ailment: "Kahin kisi ne madad nahi ki (Nobody has helped me)."
Santosh Dubey, former president of Shiv Sena, Faizabad
Secret meetings and a deficit of trust
This firebrand leader of the Hindu Brigade that tore down the disputed structure on December 6 proudly recounts his role in it. Critical of the BJP leadership, particularly L. K. Advani, Santosh Dubey makes many startling revelations. According to Dubey, it was Brahmadutt Dwivedi who introduced him to many senior BJP leaders including Advani with the aim of bringing down the mosque.
A couple of days before December 6, a secret meeting in Janaki Mahal in Hanuman Bagh at Ayodhya was held. Brahmadutt Dwivedi took Dubey to this meeting where he was introduced to Advani. There were about 500 people in this meeting, including Advani, Murli Manohar Joshi, Uma Bharti, Sadhvi Ritambhara, Lallu Singh, Vinay Katiyar, Brij Bhushan Singh, MP Hudda, Ramapati Shastri, Ashok Singhal, H.V. Sheshadri, Mahesh Narayan, Purushottam Narayan, Ram Chandra Paramhans, Nritya Gopal Das, Mahand Avaidyanath, Mahant Saryu Das and Mahant Man Mahesh Das.
Leaders like Ritambhara who spoke in this meeting appealed to the congregation to destroy the mosque, a "symbol of slavery". Reminisces Dubey of his meeting with Advani: "Haan, haan main gaya wahan. Brahmadutt ji ne parichay karaya. Jiske liye aapse baat hui thi ye hi Santosh Dubey hain. Humne unke pair chhue sammanpoorvak. Sheshadri ji, Murli Manohar Joshi aur Advani the sab toh the. Saath baithe. Bataiyega dhancha kaise tootega? Humne kaha aap bataiye, kagaz ki naav thodi hai paani par taira do. Unhone kaha kya chahiye? Toh humne bataya jo chahiye tha. Unhone kaha uplabdh ho jayega, Brahmaduttji dilwa dengne. Brahmduttji ne uplabdh karawaya (Yes, I went there. Brahmadutt introduced me saying here is Santosh Dubey I spoke to you about. I touched their feet in respect. Sheshadri, Murli Manohar Joshi and Advani all were there. I sat with them. (They asked) 'Tell us how the structure will be brought down?' 'You tell me,' I asked. It is not a paper boat which you can simply float on water. 'What do you need?' they asked. I told them all what was needed. Will be made available, they said, Brahmadutt will make it available. Brahmadutt made it available)."
In that secret meeting, Advani gave a clarion call for the destruction of Babri. Says Dubey: "Uss din diya unhone. Unhone lalkara theek se lalkara unhone kaha ki hum chahte hain 6 December ko saayam 5–6 baje tak samtal ho jaaye wahan kuch rah na jaye (He gave this clarion call, saying he wanted the structure to be levelled completely by 6 pm in the evening on December 6. Nothing should be left of it there)."
There was another top secret meeting that was held a day before, according to Dubey, at Janaki Mahal in which top leaders of VHP and BJP participated, such as Ashok Singhal and Vishnu Hari Dalmiya.
But there was a deficit of trust between the BJP and the Shiv Sena leadership. Speaking of the meeting and all sorts of exhortation leaders made their, Dubey says: "Bamke khoob, bamke upar se. Andar kya tha wo samajh mein nahi aa raha tha, isliye hum log Congressiyon se bhi sampark banaye hue the. Ye log vishwas karne layak nahi hain (They were all boiling very much, but only from outside. What was going in their heads, we could not understand. So, we were in touch with the Congress leadership as well. These (BJP) fellows are not trustworthy)."
And this contact with the Congress leadership went up to none other than the man at the helms, P. V. Narasimha Rao, who emerges as no less an agent provocateur in this sordid saga. It was again Brahmadutt Dwivedi who introduced Dubey to Rao: "Brahmadutt Dwivedi humko yahin se lekar gaye the. PM House tak lekar gaye (Brahmadutt Dwivedi picked me up from here itself (Ayodhya) and took me to the PM's house)." It was his first and the last visit to the PM's house. Judging him as a shrewd politician who played a 'positive role', Dubey recalls his meeting with Rao: "Unhone kaha pradesh ka mamla hia Kalyan Singh ki sarkar jaane. Unhone humko halafnama de diya ki dhancha totega nahi aur sach mein ye vidhvansh ke peechhe Congress ka haath tha, jo sahi baat hai. Babri vidhvansh ke peeche vastav mein jo girane ki mansha thi wo Congress ki thi Congressi chahte the ye jhanjhat khatm ho jaaye doosra P. V. Narasimha Rao chahte the (He (P. V. Narasimha Rao) said it is a state matter. It is the business of the Kalyan Singh's government. He has submitted an affidavit saying that he would not allow the structure to be destroyed and it is true that the demolition was the Congress's handiwork. The Congress leadership wanted that Babri should go. The Congress leadership wanted that the issue should be closed for all times to come. So did P. V. Narasimha Rao)."
Dubey's claims give credence to the rumours doing the rounds then that the Babri Masjid's demolition had Rao's tacit support. Rao even extended monetary support to Dubey through a conduit who is still a government employee. Says Dubey: "Wo toh mile the, hum log gaye the. Unhone arthik sahyog kiya tha (He met us when had gone to visit him. He extended us financial help)." Dubey reminisces of what Rao discussed with him in that meeting: "Wahi jo baatcheet hoti hai ki kya yojna hai humara uddeshya humne bataya. Unhone kaha toot jaana chahiye. Humne kaha bheed hia kya hone wala hia kya ho sakta hai kyonki wo aastha ka prateek tha isliye marne maarne par utaru the log. Humin kya hum jaise bahut saare log aur unka sahyog liya gaya (Our discussion went around the thing like what was our plan. I told him what our objective was. He said it (the mosque) should be brought down. I said there is a vast sea of people out there (nobody knows) what will happen. Since it was the symbol of faith, people would not mind to kill. There were so many like me, and we took his help)." This help included not only a cash component but also implements to be used for demolition: "Tha jo swayam toh wo dete nahi. Paise toh unhone de diye pachas hazar diye, lekin baaki cheezein kisi madhaym se dilwain. Ab wo madhyam kaun hai ye hi vishay toh hai na kya zaroorat hai wo aaj bhi naukri par hai (Yes, there was a medium as he would not give it personally. He gave us Rs. 50,000, but the rest of the things were provided by that medium. What is the need to know who that medium is? He is still in the employntm of the government)."
He gives the list of what was made available by this conduit: "Unhone humein gainti uplabdh karwayi, talwarein, trishul, fawde, penchein (He made us available things such as pick axes, swords, tridents, spades, and screwdrivers)."
Dubey claims that a tempo driver brought all the implements and tools required for demolition of the Babri: "Laxman Singh ek tempo chalak tha ussi ne humo uplabdh karaya tha. Brahmadutt Dwivedi ji ne bhijwaya tha. Uska bhi aaj tak pata nahi chala kahan gaya wo aadmi (There was a tempo driver called Laxman Singh who brought all the stuff. It was arranged for us by Brahmadutt Dwivedi. We don't know till this date where he has disappeared since then)."
Like Dharmendra Singh Gurjar of Bajrang Dal, Dubey has only disdain for leaders like L. K. Advani who started it all with his Rath Yatra in 1990. He says bluntly: "Jisko iss desh ka Hindu bhagwan maan raha ho jab wo hi jhooth bolne lag jayega toh log usko shaitan manane mein bhi der nahi karenge. Advani jhoothe aadmi hain unhone Jinnah ko Brahmin aadmi bataya. Ganda aadmi hai kul milakar. Dhancha tudwane mein unki poori sahmati hai kaise jageh jageh unhone jaloos nikala sabhayein ki har jageh bolte the. Aapne toda hai ya nahi toda hai lekin aapne lalkara toh, todne wale toh taiyar kiye (If someone who the Hindus revere as God begins to tell a lie, it will not take long for them to trash him as a Satan. Adavni is a liar who said Jinnah was a Brahmin. He is a dirty fellow. He had agreed on the idea of felling the structure. It was he who led the processions, addressed the meetings and talked about it everywhere he went. You broke it or not, but you gave a call and prepared people for the job)."
Who gave this slogan, "Jo Ram kaaj mein pichda hai wo mard nahi hijda hai (Anyone who lags behind in the work of Ram is an eunuch not a man)?" he asks.
Mahant Ram Vilas Vedanti, former BJP MP
A violent oath in the name of Ram
The CBI could not find any corroborative evidence of the secret meeting held at the Hindu Dham, residence of Ram Vilas Vedanti and Vinay Katiyar, at Ayodhya which sealed the fate of the mosque and sent the nation reeling under large-scale rioting and arson. However, Cobrapost has evidence of that meeting in the form of a confession from the man who was part of the whole conspiracy. The man in question is Mahant Ram Vilas Vedanti, who played a pivotal role in the Ram Janmabhoomi movement since its start. Reminiscing on how the movement gained momentum after VHP brought all
Shankaracharyas under the banner of Kendriya Margadarshak Mandal, Vedanti is proud to be part of the process that saw the demolition of Babri on December 1992, so much so that he spills all the beans when the Cobrapost reporter approaches him to throw light on the events to help him get a good insight for his proposed book project on the movement.
Vedanti candidly admits to the secret meeting that took place in his abode the night before: "Ye hi jageh hai jahan dhancha tootne ka nirnay hua ye hi Hindu Bhawan hai yahan Vinay Katiyar aate the uss samay. Issi Hindu Dham mein nirnay hua dhancha tootega toda jayega aur ye prastav main laya tha (This is the place at which the decision to fell the structure was taken. This is the place Vinay Katiyar would stay in those days. In this very Hindu Dham was decided that the structure would be felled and I was the one who put this proposal forward)." Present in this meeting were, says Vedanti, "Sabhi log the Ritambhara thi, Ashok Singhal the, Acharya Giriraj Kishore the, Swami Vamdev ji the, Acharya Dharmendra the, Vinay Katiyar the, ye sabhi log the … meeting thi paanch tarikh ko (Ritambhara, Ashok Singhal, Acharya Giriraj Kishore, Swami Vamdev, Acharya Dharmendra and Vinay Katiyar, all these people were present … the meeting was held on December 5)." The next day, the mosque was brought down.
Claiming that BJP had nothing to do with this meeting, he says, "Santon ki thi VHP mein jo log the aur sant the. Acharya Dharmendra the, Acharya Giriraj Kishore ji the, main tha, Ashok Singhal the, Moreshwar the, Pingle the, saare log the usmein … Swami Vamdev ji the aur bhi sant the, Swami Parmanand ji the, saare log the (The meeting was held by the sants and leaders of VHP. Acharya Dharmendra was there, Acharya Giriraj Kishore was there, I was there, Ashok Singhal was there, Moreshwar was there, Pingle was there, all these people were there in the meeting … Swami Vamdev was there and so were other sants, Swami Parmanand was there)."
Vedanti explains that no other organization played as big a role as did VHP: "Nahin aur kisi ka nahi kisi ka haath nahi tha. Dekhiye VHP maane Rashtriya Swayamsevak Sangh. Rashtriya Swayamsevak Sangh ke jo uch stariya boddhik log the wo VHP mein samjhe na … Moropant Pingle ji ki sabse badi bhoomika thi Rashtriya Swayamsevak Sangh ke hain VHP ke wo uch vishist adhikar the sabse badi bhoomika Ashok Singhal ke baad hunhi ki rahi. Acharya Giriraj Kishore, Ashok Singhal aur Moropant Pingle teen mukhya main the (No, no other organization played any role. You see, VHP means Rashtriya Swayamsevak Sangh. The highest officials, the ideologues of Rashtriya Swayamsevak Sangh are at the top level in VHP. Do you understand? Moropant Pingle played the most significant role. He is from Rashtriya Swayamsevak Sangh and is the highest official of VHP. After Ashok Singhal, his is the most significant role. Acharya Giriraj Kishore, Ashok Singhal and Moropant Pingle are the three main persons)."
You mean, asks the reporter, they contributed the most in the felling of the Babri Masjid? Reaffirms Vedanti: "Ji aur wo sab log yahan baithe the meeting mein (Yes, and they all were sitting here in this meeting)."
It was none other than Vedanti himself who put forth the proposal for demolition: "Prastav mera tha. Sabse pehla samarthan … humne prastav rakha yadi dhancha tootega toh yahan par aaye huye jo vishist netagan hain unko bhaga do isliye toh janta aakrosh mein ho sakta hai fir hum logon par khatra ho sakta hai jo neta log the isliye dhancha todna zaroori hai … Pingle ji the aur humare uss prastav par Mahant Avaidyanath ne sahyog diya uske baad Ashok Singhal ne, Moropant ne, Acharya Giriraj Kishore aur Acharya Dharmendra saare logon ne kaha theek, theek hai Vedantiji theek (It was my proposal and I was the first to support it … I proposed we should ask all the important leaders to leave.
The public gathered there is getting restive and it can put us all in danger. Given the circumstances, it is necessary to fell the structure … Pingle was present, and Mahant Avaidyanath was the first to support my proposal. After that Ashok Singhal, Moropant, Acharya Giriraj Kishore and Acharya Dharmendra all said 'What you say is right, Vedantiji')."
Sensing the do-or-die mood of Ram bhakts who had descended on Ayodhya in lakhs to settle the issue once and for all, a Sankalp, or oath, was undertaken. The onerous task of initiating the oath fell on Vedanti as every high and mighty among the seers and sants baulked: "Humko sabhi santon ne jo sant wahan the sabhi ne kaha ki aap Vedanti ji jaiye aur jismein Vamdevji the Mahant Avaidyanath ji the Nritya Gopal Das ji the, Shanakarcharya ji the ye saare lognon ne kaha Vedanti ji aap jaiye Sankalp karaiye. Jaise hi main charha sankalp karane ko aur manch par sankalp karana shuru kiya waise hi dhancha tootna shuru hua (All the sants present there, among them were Vamdev, Mahant Avaidyanath, Nritya Gopal Das, Shanakarcharya, asked me to go and conduct the oath. No sooner had I climbed the dais and started to conduct the oath, the structure began to fall)." According to Vedanti: "Askok Singhal ji, Ritambhara ji, Mahant Avaidyanath ji, ye sab aur sadhu sant the saikaron sadhu mahatma the (Askok Singhal, Ritambhara ji, Mahant Avaidyanath and all sadhus and sants were present there)." The Sankalp read like this, says Vedanti: "Sankalp mein likha tha aaj dinank 6 December ko hum sabhi Ram Bhakt Ram Lala ke prangan mein yeh pratigya karte hain ki jahan par khandahar khada hai uss jageh bhavya mandir banane ke liye iss Ram Janmabhoomi ke mandir ke khandahar ko hatana avashyak hai isliye isko hatake bhavya mandir ka nirman karaya jaaye iska sankalp hum log Ram Lala ko samarpit karte hain iss dhang se tha (There was written in the oath that on this day of December 6 we all Ram bhakts take this oath on the premises of Ram Lala that it is necessary to remove the structure from where it stands to make a grand temple there. It is necessary to remove the structure to make a Ram Janmabhoomi Temple. We all take this oath for Ram Lala)."
Vendati was one of the persons who drafted this oath: "Isko taiyar karne wale the Mahant Avaidyanath ji, hum aur Ashok Singhal (It was Mahant Avaidyanath, I and Ashok Singhal who prepared the oath)."
According to Vedanti, all such incriminating documents were destroyed for obvious reasons: "Yahan humne kagazaat ko bahut aise kagazaat the jisko CBI ke dar ke mare humko VHP ne kaha isko hata dijiye toh maine usko hata diya aise kai dustavez hain kagaz hain sankalp hain kai aise prastav hain (There were many documents of such sankalp and such proposals which VHP asked me to remove for fear of the CBI)."
Reminisces Vedanti of the high point in his life: "Hazaro logon ne sankalp liya … Ashok Singhal ji mere saath the unhone sankalp liya, Mahant Avaidyanath ne sankalp liya saare log mere saath manch par the uss samay (Thousands took the oath. Ashok Singhal was with me who took the oath. Mahant Avaidyanath took the oath. There were so many on the dais at that time)." Uma Bharti and Ritambhara were also on the dais.
But most of these leaders, says the reporter, don't admit to what they did. Feeling challenged, Vedanti admits: "Nahin, humne kiya. Main bata raha hoon maine kiya, maine dhancha toda aur tudwaya aur jab maine sankalp karaya toh sankalp ke samay jo log the sankalp kiya aur baad mein dhancha tootna prarambh hua (No, we did it. I am telling you I did it. I felled the structure and got it felled. When I conducted the oath, whosoever was there took the oath. After that the structure began to be felled)."
It was not possible without Ashok Singhal. Avers Vedanti: "Ashok Singhal ki bahut badi bhoomika hai Ashok Singhal na hote toh dhancha kaise tootata (Ashok Singhal played a big role. How the structure could have been felled without Ashok Singhal)?" So, who planned it all? "Ashok Singhal, Moropant Pingle, Acharya Giriraj Kishore, ye teen pramukch the … main saara sabhi log mere paas hi rehte the mandir mein aur yahan do bhag the saara VHP yahin rehta tha (Ashok Singhal, Moropant Pingle, Acharya Giriraj Kishore and I. All these people used to stay with me at the temple and there were two parts. All the VHP leadership stayed there)."
Vedanti is never restrained in his averments as he claims to have instigated the karsevaks with incendiary slogans: "Advani tab aaye jab dhancha tootna shuru ho gaya. Advani ne, Joshi ne, Vijayaraji Scindia ne Rajmata ek hi, teeno logon ne mana kar diya tha ki aap utar aiye utar aiye lekin iske baad main loudspeaker lekar kehta raha 'Ram naam satya hai aur khandahar dwast hai' kai nara lagaya (Advani entered the scene when the structure had already begun falling. Advani, (Murli Manohar) Joshi, Rajmata Vijyaraje Scindia all began pleading (asking the karsevaks) to climb down. But then I took the loudspeaker and began exhorting them with the slogan 'Ram naam satya hai aur khandahar dwast hai')."
In his second interview with Ashish, Vedanti not only reiterated all what he had already said but also made some more startling revelations.
After a date for karseva, December 6, was announced in Delhi, says Vedanti: "Ussi ki baithak fir Ayodhya mein issi Hindu Dham mein huyi jismein Ashok Singhal ji, Acharya Giriraj Kishore ji, Moropant Pingle, Mahant Avaidyanath ji, Nritya Gopal Das ji, Paramhans ji, Shankaracharya … ke Shankaracharya, Acharya Dharmendra, Acharya Giriraj Kishore, main tha Ashok Singhal ji the Nritya Gopal Das ji the, Paramhansji the, Vinay Katiyar the, Moropant Pingle to bata hi diya in saare logon ne issi Hindu Dham mein baith kar nirnay liya ki chhe December ko mandir nirman ki karseva karenge aur awashaykta padti hai toh uss khandahar ko jo jeern-sheern awastha mein khara hua hai usko todenge lekin jan samanya ko yeh nahi bataya gaya tha ki dhancha todne ka bhi karyakram bana tha (In that pursuit, another meeting was held at Ayodhya in this very Hindu Dham that was attended by Ashok Singhal, Acharya Giriraj Kishore, Moropant Pingle, Mahant Avaidyanath, Nritya Gopal Das, Paramhans (Ram Chandra Das), Shankaracharya, Acharya Dharmendra, me and Vinay Katiyar … all these people decided to conduct a karseva on December 6 to build the temple and if need arose the dilapdidated structure standing there would be felled … but the ordinary folks gathered there were not told this)."
A workplan had already been chalked out to carry out this diabolical design and all the tools had been procured well in advance.
Claims Vedanti: "Dekhiye aisa hai karyayojna toh humne bana liya tha pehle hi pehle se karyayojna banakar ki kaise dhancha toda jayega uske auzar hain wo sab Ram Katha Kunj tha ussi mein rakh diye gaye. Ram Katha Kunj mein saare auzar rakhe huye the aur jab ye aarambh hua toh usko koi nahi rok sakta iski jaankari humko ho gayi toh fir jo auzar rakhe gaye the todne ke kiye sabbal, fawda hai aur tamam cheezein hain ye rassiyan wagaireh sab wahan bhej diye gaye (You see, the workplan to demolish the structure had already been put in place. All the tools required for this had been kept safe at the Ram Katha Kunj. We knew when it begins nobody could stop it, so we sent sabbals, spades, ropes and other tools there)."
Even then Chief Minister Kalyan Singh had already been apprised of what was going to happen on December 6. Vedanti claims thus: "Paanch December ki raat ko hi Kalyan Singh ke paas samachar bhej diya gaya tha aur sumein ye kaha gaya tha ki yadi awashayakta padti hai toh dhancha bhi tod diya jayega aapko kya bhoomika nirwah karni hai vichar kar lijye (On the night of December 5 itself Kalyan Singh was informed of it and he was told that if need be the structure would be felled. Now, you decide what you have to do)."
Most of the hardliners, according to Vedanti, wanted the structure to go, but there were some elements who did not wish that to happen, and it was BJP: "Bhajapa (BJP) ka kehna tha ki dhancha toot jayega toh mudda samapt ho jayega isliye dhancha na toda jaye … samjhe na isliye jab dhancha tootna shuru hua dhancha tootne ke samachar sunane ke baad Advani ji Joshi ji Vijeraje aur Uma Bharti ji ye saare log the Janki Mahal mein inko roka gaya tha wo sab dhancha tootne ka samachar sunane ke baad manch par pahunche (BJP was of the opinion that if the structure goes, the issue will die. Do you understand? So, Advani, Joshi, Vijayraje and Uma Bharti had been confined to Janki Mahal and they came to the dais (of Ram Katha Manch) only when they came to know that the structure is being razed)."
Although Kalyan Singh knew, he failed to act and what Vedanti says establishes his complicity in the crime beyond doubt: "Nahi Kalyan Singh ne kuch nahi kiya jab dhancha tootna shuru hua toh Kalyan Singh ne kisi ko rokne ki baat nahi ki (No, Kalyan Singh did nothing. When the structure began to be felled, he did not ask anybody to stop it)."
Now, Vedanti throws a bombshell when he says that on Decmber 6, "… Narasimha Rao se subah chhe baje meri baat huyi … chhe baje Narasimha Rao ka phone ayaa … kyonki dancha tootne se pandrah din pehle Narasimha Rao ne mujhko bulaya aur kaha Vednati ji kya hoga … subah chhe baje phone aaya toh kaha kya nirnay liya aap logon ne … dancha toh Narasimha Rao ne kaha toot jana chahiye poora (I spoke to Narasimha Rao at 6 in the morning … Narasimha Rao phoned me at 6 a.m. … 15 days before the structure was felled Narasimha Rao had called me for a meeting and had asked me, 'Vedantiji, what will happen?' … he asked me what we had decided about the structure, then he said it should be felled completely)." Vedanti informed him of it at 1 a.m. in the night after they made a clean job of the Babri Masjid and had installed Ram Lala in a makeshift temple where once stood the disputed structure.
Ramji Gupta, then caretaker of the Ram Janmabhoomi, 1992
Operation Janambhoomi, the secret of secrets
The police, the CB-CID, and the CBI never came to know about it, so well-guarded the secret plan was which only the top brass of the RSS and VHP knew. It was given a codename, Operation Janmabhoomi. Headed by Ashok Singhal, the plan was executed with precision of a covert military operation, leaving no tell-tale signs. To put the plan into operation an army consisting of 1,200 RSS cadres was formed. This formation was given the name Laxman Sena with a war cry of Jai Sheshavatar. The man who executed the plan and who headed the army was none other that Ramji Gupta, who was supervisor of the Ram Katha Kunj.
On that fateful day seated on Ram Katha Manch were about 100 people, including top leaders of all Hindu outfits who oversaw the demolition of Babri Masjid. According to Ramji: "Haan manch par jo the wahan manch ki vyavastha bhi humari thi toh wahan par jaise Vihip mein Uma Bhartiji, Dharmendra Acharya ji aur Sakshi ji Mahapandit Vidya Mandir ke aur Ritambhara, Ashok ji … haan … nani Champat Rai ji, Shambhunath ji, aur BJP ke Murli Manohar Joshi ji, Advani ji aise saare log toh the hi aur Dr. Durg Singh Chauhan ji … Bajrang Dal ke Vinay Katyar toh the hi (Yes, it was my duty to look after the arrangements on the Manch. Seated there were Uma Bharti and Acharya Dharmendra from VHP, Sakshi and Ritambhara, Ashok (Singhal), yes, Champat Rai, Shambhu Nath, Murli Manohar Joshi and Advani from BJP, then there was Dr. Durg Singh Chauhan … Vinay Katiyar of Bajrang Dal was also there)."
Then, according to him: "Ussi samay tatkal jo hai Laxman Sena ka gathan hua aur uska rashtriya pramukh main hi raha … aur uska jo hai Jai Sheershavatar tha Laxman Sena ka Jai Sheshavatar nara tha aur vyasthit karne ke liye ye tatkal ji hai vyavasth de gayi (That very moment Laxman Sena was formed and I was its national head. Its slogan was 'Jai Sheershavatar'. It was formed to put everything in order)." The army was formed a day before the Babri Masjid was felled.
And who were recruited in this army? Here is what Gupta tells: "Aur har pradesh se jo hain aise chuninde 80-100 karsevak liye gaye bilkul har Pradesh ke pratyek pradesh tha usmein aur sabko control karne ke liye ye lagbhag 1,200 ki sankhya thi aur inko taiyar kiya gaya ki kahin avyavastha hoti hai toh aap vayavastha karein (From every state 80–100 karsevaks were selected and this number was about 1,200, who were deputed to control the crowds and were readied to bring everything in order)."
Dressed in RSS fatigues, these trained cadres were deputed within the Ram Janmabhoomi premises, which in other words, was Babri Masjid. Says Gupta: "… fir jo humare cader hain RSS ke wo agar aap jante honge toh pratham varsh, dvitiya varsh, tritaya varsh in logon ka prashikshan hota hai ek mahine ka toh aise jo karyakarta the aise jo swayamsevak the unko Janmabhoomi parisar ke andar hum logon ne nicker vesh mein gan mein khada kar kiya (… then our RSS cadres of first year, second year and third year, if you know, who receive a month-long training (in RSS shakhas), such activists, such volunteers were arraigned in a formation within the Ramjanmabhooomi premises)." They were asked to maintain order, says Gupta.
But the real objective of this band of 1,200-strong RSS cadres was not as harmless as it may sound. What Gupta tells leaves nothing to imagination when he recounts the events of the day before: "Aisa hai ki sabhi pradeshon ke usmein karyakrta log the ye samjhiye ki 18 saal se leklar ke aur 30 saal ke beech mein aise jawan the usmein sab aur jo hai 50-50 ki toliyan bani thi sabka alag-alag vibhag tay hua tha aap pani pliayenge … aap rassa le jayenge … aap geinta ke jayenge aap fawda le jayenge aap hammer le jayenge sabki alag alag vyavastha thi. 50 logon ki 24 toliyan thi matlab 1,200 ho gayi sankhya (There were young workers from every state, aged between 18 and 30 years. We formed 50 groups. Every group was given a department; for instance, you will give water, you will carry ropes, you will carry pick axes, you will carry spades, you will carry hammers. There were 50 groups of 24 workers each, which took their number to 1,200)."
The plan was not to initiate but hit the hammer when the karsevaks refused to obey the orders of the leaders to not harm the structure. They all had determined to wash the blot of from the nation. Says Gupta: "Kalank toh tha hi ye, lekin hum pehle nahi jayenge … jab kar sevak jo hain ko rokenge karsevak nahi toh uske baad hum karsevakon ki madad karenge (Yes, it was a blot, but (we had decided) not to go there first. We will try to stop the karsevaks but then the karsevaks would not relent, we will simply join them)." The war cry of Laxman Sena was Jai Sheshavatar, and Gupta had to repeat the slogan thrice to drop the signal: "Wo toh khali teen baar humko bolna tha bas (I simply had to raise that (slogan) thrice only)."
When the frenzied crowds of karsvaks surged towards the mosque hellbent to fell it, the police force stationed there beat a hasty retreat. The job could have done in 1991, says Gupta: "Saari force hat gayi thi aapke paas agar auzar hote uss samay 91wein mein hi girwa sakte the aap. Gir jaata aur rahi kamiyan iss baar poora kiya (The police force had retreated. If you were equipped with all the tools, you could have felled it in 1991 itself. Anyway, we left nothing to chance this time around)."
The force returned at midnight after the Babri had been razed, and the place had been cleared of all its rubble with Ram Lala was installed in a makeshift temple.
Only five people were privy to this plan. Says Gupta: "Paanch log hi shayad jaante the chathwan vyakti koin nahi tha … aisa tha ki jaanane ka matlab kuchh nahi ho pata (Perhaps, only five persons knew of this plan. If there were a sixth person knowing about it, we would not have been able to execute it)." Among these select five were, as reveals Gupta: "Durg Singh Chauhan ji the aur Shambhu Nath ji the aise hi ismein ek naam Champat Rai ji ka hai … ek retired brigadier the aur architect the (Durg Singh Chauhan, Shambhu Nath, Champat Rai, a retired brigadier and an architect)."
Vinay Katiyar also knew of it, says Gupta: "Katiyar ji toh yahan ke neta hain hi Ayodhya ke Ayodhya ke neta hain hi lekin ye sab vyavastha ke baare mein unko bhi pata tha (Katiyar is the leader of Ayodhya but he also knew of these arrangements)."
Pawan Pandey, former Shiv Sena MLA
Shiv Sena's conspiracy in the Babri war
Beginning with Hindu Suraksha Samiti in 1986, Pawan Pandey had the opportunity to rub shoulders with the stalwarts of Ram Janmabhoomi movement such as Ram Chandra Paramhans, Nitya Gopal Das and Ram Vilas Vedanti. A year later he joined Shiv Sena, became a legislator after winning elections riding the wave after the police firing on karsevaks in Ayodhya in 1990. No longer with Shiv Sena, Pandey has served a term in jail and is facing a myriad of court cases.
Telling the Cobrapost reporter he would share all required information, Pandey strikes a note of caution: "Aap bahut zyada mat likhiyega ki humari rajneeti chaupat ho jaye (Don't write too much, otherwise it will ruin my political career)." Pandey makes more revelations which are more shocking, confirming what his fellow Shiv Sainik Goel claims about the conspiracy to bring down the mosque with dynamite. The outfit had planned to destroy the structure in 1990 itself after police firing on karsevaks leading to death of Kothari brothers.
Look at what Pandey claims: "Dubara karsevakon ki ranneeti bani toh hum log zid par ade the. Hum, Suresh Baghel aur tamam log. Usmein Suresh Baghel ko dynamite dekar ke Babri Masjid udane ke liye koshish hui 90 mein aur BJP ki sarkar aane ke bawajood Suresh Baghel jail mein tha jo Mathura mein hai. Humara saathi tha jaat ka badhai tha. 28 dynamite ke saath pakda gaya tha. Usko saza ho gayi paanch saal ki Faizabad court se (When the karsevaks began to discuss their strategy again, I, Suresh Baghel, and many others were adamant. Suresh Baghel tried to demolish Babri Masjid with dynamite in 1990 and he was jailed without respite even after BJP came to power. He was our companion and was a carpenter by caste. He was caught there with a cache of 28 dynamite sticks. He was awarded a five-year sentence by a Faizabad court)."
Pandey says 450 karsevaks were given training in camps at Morena and Bhind bordering Uttar Pradesh, which included climbing up the hills with ropes as they would have to climb the domes of the mosque, and the use of tools such as pick axes. Says Pawan about the leaders who conducted these training sessions: "Usmein Jai Bhagwal Goel the Delhi ke aur ek Madan Lal Chadda Ghaziabad jinhone wahan vayavastha diya tha, Mahesh Ahuja the aur Anand Digheji uss samay Maharashtra se aaye the training dilwane ke liye (There was Jai Bhagwal Goel from Delhi, there was Madan Lal Chadda from Ghaziabad who had made arrangements for the training, there was Mahesh Ahuja and Anand Dighe had come down from Maharashtra to impart training)." Anand Dighe, a well-known Shiv Sena leader from Thane, who led these training sessions. The karsevaks were trained in the use of tear gas as well.
Pandey claims that a video of the training was given to Newstrack, a TV news programme produced by the India Today Group and telecast on Doordarshan. But it never saw light of the day.
Shiv Sena chief Balasaheb Thackeray was very much part of the whole conspiracy as Pandey goes on to make another revelation implicating the Thackerays when the Cobrapost reporter asks him if the supremo knew about all these developments: "Haan haan kyon nahi thi. Uss samay Raj Thakeray bhi aya tha Banaras aur hum logon ki kai baar hui meeting. Press aur media se lagi bhi thi. Hum logon ne ye bayan diya tha ki 18 November tak hum apne karsevak ikkattha karenge aur dhanche ko girayenge (Yes he did. Raj Thackeray also visited Banaras and we had many meetings. The media also covered it. We had issued a statement saying that we will gather karsevaks by November 18 and demolish the structure)."
Talking of the role of other important leaders of Shiv Sena, such as Moreshwar Save, Pandey claims: "Poora role tha humare neta the wo sab jageh saare maukon par, girte samay bhi the (He played an important role. He was after all our leader. We would see him everywhere, on every occasion, even when the structure crumbled)." A co-accused in the case, Save helped with money to run the training camps. "Save ne kuch madad nahi ki sirf political aur arhtik madad ki. Uss samay khane-peene ke liye hum 65–70 hazar rupaya humko diya gaya tha wo logon ki khane peene ki vyavastha karne ke liye (Save didn't help much. He helped us politically and financially. He gave us Rs. 65,000–70,000 to arrange food for the trainees)," says Pandey.
Pandey claims to have met Balasaheb Thackeray dozen times in those days. He says: "Hum unke nirdesh par kaam kiye hain (I worked under his directions)."
Giving logistical help to Shiv Sena and participating in the demolition of the mosque was a small band called Pratap Sena. Rejecting the suggestion that Bajrang Dal, VHP, or RSS had played a leading role in the demolition, Pandey says: "Ye netratva visheshkar Shiv Sena aur Pratap Sena jo Fatehfur ki chhoti tukdi thi jo kaale kapde mein the aur baaki janmanas tha (Especially, it was Shiv Sena and a small band of Pratap Sena from Fatehpur, wearing black clothes, which led from the front, and the rest was the large mass of people gathered there)."
In the thick of action on that day, Pandey saw the domes of the mosque crumbling and saw the heavy stone plaque erected by Mir Baqi, declaring the establishment of the Babri, fall apart in three pieces. He took away two as memento which are still in his possession. Pandey proudly says: "Wo toh abhi humare paas hi hai. Do hissa humare paas hai ek hissa jama hai (This is still with me. Two pieces are with me while the other is with the authorities)." Pandey now wants to put these relics under the hammer to make some quick bucks.
It was Ram Chandra Paramhans who exhorted the sea of karsevaks to destroy the mosque. "Hum logon se Ram Chandra Paramhans ne kaha todo, tod diya (Ram Chandra Paramhans told us to tear it down, we did that)."
Jai Bhagwan Goel, former President of Shiv Sena, North India
The saffron brigade's aggressive Tughlak ideology
While most of the Hindu outfits, including the BJP, shied away from taking responsibility, it was Shiv Sena supremo Late Balasaheb Thackeray who took credit for razing the 16th century mosque to the ground. It was neither false bravado nor bragging. In fact, the outfit had planned to bring down the structure in its own style, and heading the demolition squad consisting of Shiv Sainiks was none other than Jai Bhagwan Goel, then leader of Shiv Sena from North India. The interview that Goel had with Cobrapost Associate Editor K. Ashish bears testimony to this fact.
Critical of the soft approach that BJP leadership had toward the issue, Goel says that although the Ram Janmabhoomi movement was spearheaded by Vishwa Hindu Parishad, the Shiv Sena had its own agenda. Says Goel: "Hum log thoda bahut Tughlak vichardhara ke hain. Akramak hain humara kaam karne ka style. Toh hum chahte the ki wo toote, tootega tabhi mandir banega. Toh jab inhone VHP ke BJP logon ne nara diya tha 'Lathi goli khayenge, mandir wahin banayenge' toh humne nara badal diya wahin 'Lathi goli marenge, mandir wahin banayenge' (We somewhat follow the Tughlak ideology. Our style of functioning is aggressive. We wanted to demolish the structure. A temple could be built there only when we will have demolished it. So, when the VHP and BJP people gave the slogan 'We will brave the rain of lathis and bullets/we will build the temple there only,' we changed the slogan then and there to 'We will spray lathis and bullets/we will build the temple there only)." Goel and his band of Shiv Sainiks were there both in 1990, when scores of karsevaks died in police firing, and in 1992 when the mosque was brought down on December 6. It was befitting to demolish the structure to avenge the killing of karsevaks. Simmering with anger, the Shiv Sena was making its own preparations.
Reminiscing the scene of those killings, Goel says: "Jo drishya tha wo ghoomte rehta tha kaise kaise log maare gaye dimag mein humare. Kisi tareeke se uska badla humne lena hai aur Ram Janmabhoomi ka uddhar hona hai. Iske liye lage rahe hum kafi samay tak. Chhe December ko humne kiya humari bhoomika thi, humne swikar kiya uss waqt jab koi swikar nahi kar raha tha sabse pehle humne swikar kiya tha humne kaha yes dhancha widhvansh humne kiya hai (That scene of the killing of people would play in our minds. We had to avenge the killings anyhow and emancipate the Ram Janmabhoomi. We were making preparations for quite some time for that. We did it on December 6. We played a role in it. We were the first to accept it when nobody was willing to accept it. We said 'yes we demolished the structure')."
When Goel and his band of Shiv Sainiks reached Ayodhya on December 5, there was this talk of symbolic karseva in which the karsevaks were supposed to throw a handful of sand and sprinkle some holy water on the Ram Chabutara. For the thousands of karsevaks congregating there, it was no karseva at all. According to Goel, everybody, particularly the youth, was enraged at this suggestion as they felt they were being made a fool. Goel claims he incited the crowds by sloganeering: "Humne ussi waqt logon ki bhawanaon ko dekhkar mahaul garam kar diya kaha 'Bahaw ko mod denge aur dhanche ko tod denge (Sensing the feelings of the people gathered there, I charged the atmosphere shouting 'We will turn the tide and will bring down the structure')." He reiterates to correct himself: "Humen kaha 'Ganga ki dhar ko mod denge aur dhanche ko tod denge' ye humara udghosh tha uss waqt ('We will turn the currents of the Ganges and will destroy the structure' was my clarion call to them at that point of time)."
To accomplish their part of Operation Janmabhoomi, the Siv Sainiks were equipped with hammers, spades, shovels, pickaxes, sabbals and long sturdy ropes, which according to Goel, were provided by the locals of Ayodhya. "Ayodhya mein … Ayodhya mein sab saman pahunch rakha tha pehle se jo humare log the Ayodhyavasi the unhone prabandh kiya (All the equipment had arrived in Ayodhya. It was provided by our local members)."
In November end, a meeting at North Avenue in Delhi was held by the Shiv Sena in which all top leaders like Satish Pradhan, Moreswar Save, Pawan Pandey and Goel were present among many others: "Meeting mein kaafi log the matlab uch Shiv Sena ke pradhan the aur main Pramukh ke naate main tha, Pawan Pandey kaafi North India ke log the (There were many in the meeting. I mean top leaders of Shiv Sena like (Satish) Pradhan. I was there as head and then there were Pawan Pandey and many others from North India)."
According to Goel, it was unanimously resolved to destroy the mosque on December 6: "Haan decide ye hi hua tha usmein dhancha tootna hai uske liye chahe humein kuch bhi karna pade hum karenge dhanche ko bakhshenge nahi. Chhe December ko karseva hogi Shiv Sena style mein hogi (Yes, it was decided in the meeting that the structure has to go. We will do everything to achieve that. We will not spare the structure. There will be karseva on December 6 and the karseva will be conducted in Shiv Sena style)."
The ultra-Hindu outfit made its intention clear before the media, first in Delhi and then in Ayodhya a day before the structure was demolished.
The operation was remote-controlled by Balasaheb Thackeray who also wanted the structure to go. Says Goel: "Thackeray sahib ka tha ki tootna hai (Thackeray sahib was of the opinion that the structure should be brought down)." There were scores of meetings with Thackeray on this issue. "Sau baar pachas baar roz meeting hoti thi unke saath (Hundred times, fifty times. We had meetings with him almost daily)." Reporting the developments to Thackeray, Moreshwar Save and Goel were leading the Shiv Sena operations with designs no less sinister. As part of preparation for the operation, the Sainiks underwent training in various camps set up at Morena and Bhind to equip them with skills of scaling the tombs and doing the spadework. Goel too attended such five camps. In his own words: "Haan camp laga tha taiyari ki thi logon ne kaise todna hai kaise charhna hai wo kiya tha (Yes, training camps were organized. People had learned how to break the structure and how to climb it)."
If all methods failed, Shiv Sena had an explosive solution. Listen to what Goel claims: "Humare paas dynamite bhi tha hum dynamite bhi lekar gaye the wahan par agar zaroorat padti usko bhi chala dete iss taiyari se gaye the hum (We were carrying dynamite there. If need arose, we had gone fully prepared to use it)." Had you deputed someone for the task? Goel reiterates: "Na, na main keh raha hoon na jo humare paas dynamite tha agar wo dhancha na tootata toh hum usko dynamite lagakar tod dete iss taiyari se hum log gaye the (No, no. I am telling you that we had gone there prepared to the extent that if the structure did not cave in, we would bring it down by planting dynamite we had carried there)."
Goel's assertions find an echo in the interview that his fellow Shiv Sainik Pawan Pandey had with Cobrapost.
B. L. Sharma alias Prem, two-time MP, BJP
A Hindu zealot spills the 1992 beans
Still going strong at 84, the two-time member of Parliament, B. L. Sharma alias Prem comes across a fire-spitting, venom-spewing ultra-Hindu nationalist who does not mince words while questioning the loyalty of Indian Muslims. Defining who is a true Hindu, he says: "Jo iss desh ko matribhoomi, pitrabhoomi, punyabhoomi manta hai wo Hindu hai … jaise paida sab ho jaate hain wo matribhoomi hai … pitrabhommi matribhoomi ke samaan hai. Yahan jhamela kis baat ka hai punyabhoomi nahi maante. Musslaman kehte hain matribhoomi toh hai humari lekin humari aastha Mecca mein hai (Anybody who takes this country as his motherland, fatherland and holyland is a Hindu. Suppose when you take birth, this country automatically becomes your motherland. Motherland and fatherland are the same. The problem with them (Muslims) is that they don't consider this country as their holyland. Muslims say they take this country as their motherland but their faith lies in Mecca)."
This sets the tone and tenor of the interview that Cobrapost reporter K. Ashish had with B.L. Sharma who has now converted to become a Khalsa, and we get a peek into the mind of this Hindu zealot who played an important role in the demolition of Babri Masjid. Sharma, who now likes to call himself Sher (a lion), says he is fortunate to have been at Ayodhya on all three occasions: First when the statue of Ram Lala (Lord Ram) was instated at the disputed site in the wee hours of December 15, 1949, then in 1990 when thousands of karsevaks had gathered in Ayodhya to accomplish the mission but failed when the Mulayam Singh government ordered firing resulting in killings of karsevaks, and finally in 1992 when "Mission Janmabhoomi" was accomplished with the razing of the mosque and the reinstating of statues of Ram Lala, his consort Sita, brother Laxman and devotee Hanuman in a makeshift temple at the site.
Look at the claim, this Hindu-zealot-turned-Khalsa is making before the camera: "Ayodhya ki baat sun le main 15 December 1949 ko Military Police mein tha, Ayodhya mein hi tha mere 13 logon ka main warrant officer tha. Hum logon ko jab moortiyan sthapit hui main wahin the Thakur Guru Dutt Singh ji the aur Nayyar sahib the theek hai inhone sahyog diya humara jab kabhi hum Faizabad mein humari unit thi bacche Muktar Ghat par (Now, listen to what happened in Ayodhya on December 15, 1949. I was then with Military Police and was posted at Ayodhya. I was Warrant Officer of a unit of 13 military personnel there. Posted there was Thakur Guru Dutta Singh and Nayyar. They helped install the statues. Our unit was stationed at the Muktar Ghat in Ayodhya)."
Although the chronology of events Sharma claims to have been witness to is not exact, his memory has not failed him, for the two officials K. K. Nayyar and Guru Dutt Singh were, respectively, district magistrate and city magistrate of Faizabad who wrote the script of this fraud, collaborating with priests Ram Chandra Das, born Chandreshwar Tiwari in Bihar, and Dharam Das. Three years later, Nayyar took voluntary retirement to join Jan Sangh and became an MP in 1967.
Sharma still has a vivid memory of that momentous occasion which in a matter of few decades down the line would change the course of history of modern India, irreconcilably dividing the country on communal lines. He savours telling the tale every bit: "Tab main Faizabad mein tha. Toh humare yahan jo ye baba hain na darhi wale jinka dehant ho gaya … nahi nahi doosre … Ram Chandra Paramhans wo humare unit mein aate the toh fauzi baba kehlate the … toh moorti sthapit hui … toh 6 December ko maine dekha manch par hi the (I was then posted at Faizabad. This bearded Baba would visit us there, he is now dead … no, no I am talking of some other … Ram Chandra Paramhans. He would visit our unit and we would call him Fauzi Baba … so, this is how the statues were installed … he was there on the dais on December 6 as well (1992))."
We get a confirmation of this fact again as Sharma continues to gloat over the events of that fateful day. While denying the act of demolition was preplanned, he claims he was much as complicit in inciting the frenzied mob that had climbed on the domes of the mosque to bring it down: "Ye galat hai ki ye poorvaniyojit tha. Baat toh ye hui thi ki ye kya kehte hain usko ek symobilc karseva hogi. Karyakarta nahi maan rahe the. Yahan se paach hazar karyakarta lekar gaye the laga ki kum honge. Toh Sudarshan ki baat kisi ne nahi maani wo manch par kehte rahe utro na utro. Fir kya hua paanch baje ke aas-paas hi Advani ji ne kaha ki BL ji jao un karsevakon ko neeche utaro. Maine kaha main toh nahi jaata mujhe saare log jaante hain haathapai ho jayegi ki nahi samjhe bache. Maine kaha Uma Bharti ko saath mein bhejo wo mere saath gai. Wo keh rahi thi neeche utro neeche main keh rah tha karseva neeche se karo kya … baat samajh gaye meri (This is wrong to say that this was all preplanned. It was decided that a symbolic karseva will be carried out. But the activists were not willing to buy it. I too had taken along with me a group of 5,000 karsevaks there which I thought would be insignificant. Nobody listened to Sudarshan who was asking them from the dais to get down. Then, at about 5 o'clock (Lal Krishna) Advani said to me, 'BL ji go there and ask those karsevaks to climb down. I said, 'No I will not go. Everybody knows me and if I go, they will not shy away from beating me. You understand, child (to the reporter). I said send along Uma Bharti. She went there along with me. She was asking the karsevaks to climb down, whereas I was asking them to perform karseva from below. Do you understand what I mean)."
This is how he exhorted the karsevaks: "Maine kaha Hindustan mein nahi banega Ram ka mandir Mecca mein banega. Wo bache utar kar neeche aaye tab tak mamla fit … bas Hindustan ka kalank wo laga hua dhul gaya (I said if not in Hindustan, then should a temple for Ram be built in Mecca. When those children climbed down, the matter had already been made fit … the blot on Hindustan had been washed clean)."
In other words, the message was not lost on the frenzied mob of karsevaks and the mosque was brought down. As the mosque was being razed to dust, one of the activists brought the seat of Lord Rama and tried to hand it over to L. K. Advani who instead asked him to give it to Sharma. Then, local MLA came rushing to Advani to hand over statues of Ram and other gods. Advani again directed him to Sharma who happily kept them all in his safe custody till the authorities sought them back that night.
Sharma has only disdain for politicians like Advani, once hailed as Loh Purush for his strident pro-Hindu stance and the Rath Yatra he conducted to rally all Hindus around the issue of Ram Janmabhoomi. But when the pride moment came, he simply capitulated to cry before the nation and the world to see.
Sharma does not mince words when he expresses this disdain: "Rajnitigyon ki voton ke karan pindliyan kaampti hain. Sabse napunsak aadmi rajneta hota hai (Politicians tremble for (losing) votes. If there is any coward amongst us, it has to be the politician)." Of Advani, Sharma has this to say: "Wo roye hain ye galat hua hai sabse kala din. Manch par hi roye hain … unka rang peela hua tha daant bahar aa rahe the duniya kya kehti hai. Maine toh sabse pehle mere se bhi neeche wale ne poocha tha aapki kya pratikriya hai, maine kaha sabse sansar mein mere liye harsh ka din hai ye humare hriday par 1217 se 1528 se laga hua kalank aaj dhul gaya (He (Advani) cried saying 'what happened was wrong, (it is) the blackest day.' He wept there on that dais itself. What the world will say? Someone asked about my reaction. I said this is the happiest day of my life. The blot that has remained etched deep on our conscience since 1217, since 1528 has been washed away, finally, today)." This was on the night of December 6, 1992.
From where did all these statues come? asks the Cobrapost reporter. Replies Sharma: "Wo kya bolte hain Babri dhanche ke neeche (What they say is from the Babri structure)." Were they found? asks the reporter again. What Sharma says is revealing: "Nahi thi na wahan. Jab pooja hoti thi main aur captain wahan jaate the dhikkarte the apne aap ko (No, they were never there. When the pooja was held there, I and the captain (of our unit) would go and would curse ourselves to no end)." Unwittingly, Sharma lets the truth, again, that appearance of the statues of Ram Lala and his family was not the handiwork of some divine force. How these statues were planted in the mosque, Sharma makes it clear in another interview with the Cobrapost reporter, when he proudly declares: "90 mein bhi gaya tha main toh 6 December ko. Moortiyan sthapit hui tab bhi wahin tha 15 December 1949 ko (I had gone there (Ayodhya) in 1990, I was there on December 6 (1992) and I was there when statues were installed (in the mosque) on December 15, 1949)." In fact, it was the handiwork of Ram Chandra Paramhans, and complicit in this fraud were then District Magistrate and another high-ranking official of the local administration: "… Thakur Guru Dutt Singh the wahan ke zila kya bolte hain usse district magistrate aur Nayyar sahib nahi Nair wo bhi kuch pata nahi kuch bade adhikari toh Mahant Ram Chandra Dasji ye Fauzi Baba mane jaate the wo humari unit mein bhi aate the har Sunday toh unhone humse contact kiya ki falan din mera khyal hai 15 December hoga aise aise Ram Lala virajman hone hain toh kul milakar Ram Lala virajman ho gaye (There was this Guru Dutt Singh who was then district magistrate and there was another official called Nair sahib, I don't know exactly, but he was a big official. There was this Mahant Ram Chandra Das. He was also known as Fauzi Baba and used to visit our unit every Sunday. He contacted us. He said Ram Lala will appear on that particular day, it was perhaps December 15, and asked us to bring along some friends. This is how Ram Lala appeared there)."
When the Cobrapost reporter asks him how they came to know that Ram Lala will appear there, Sharma retorts: "Arre ji kahe ke prakat hone wale … prakat kiya hai (How would he (Ram Lala) appear? He was made to appear)." It was the handiwork of the head priest: "Wo toh maharaji ka kaam tha na Ram Chandra Paramhans (It was the handiwork of Maharaj Ram Chandra Paramhans)."
Even after two decades, the events of the day of December 6, 1992, and night are firmly etched in his memory. According to him, a galaxy of Sangh Brotherhood leaders consisting of Ashok Singhal, Murli Manohar Joshi, L. K. Advani, Uma Bharti, Sadhvi Ritambhra, Bhanu Pratap Shukla and Kedarnath Sahni, among others, were all present there when the frenzied mob began its onslaught on the mosque and it caved in. Sharma reiterates how Advani asked him to ask the karsevaks to climb down. He went there along with Uma Bharti but instigated the mob, instead. He claims: "Main aur Uma Bharti dono gaye hum wo gumbad ki back side jeep mein … neeche utro neeche se karseva karo ye hum bol rahe the kudal marni hai toh saali neeche se maaro aur humare saath ACP Gupta tha (Both I and Uma Bharti went there in jeep from the backside of the dome … we told them to climb down … do the karseva from below … if you want to strike the pickaxe hit it from below … and accompanying us was ACP Gupta)."
He recollects the famous exhortation of Uma Bharti which she made to incite the mob: "Unka jinka mujhe yaad hai Uma Bharti ka hi hai yahi ek dhakka aur do Babri Masjid tod do (The slogan I still remember is that of Uma Bharti … Give one more push/bring down the Babri Masjid)."
According to Sharma, the atmosphere across the country was so surcharged that even the Congress Party wanted the mosque to be demolished: "Har Hindu chahta tha iss dharti ke upar even Congressi bhi chahte the. Voton ke karan nahi nahi karte hain sab (Every Hindu on this earth wanted it. Even Congress people wanted it. All would say no to it in public for (fear of votes))." Sharma makes another revelation: "Itna zaroor hai ki Lok Sabha mien Narashima Rao the PM toh Narashima Rao ne Subramanian Swamy se poocha ki koi definite source ho toh batlao lake mujhe ki kya planning hai toh Subramanian Swamy MP the mere dost hain aaj … wo mere paas aaye jo haal hai kaha Prem ji 6 December ko ye kya plan hai. Maine kaha masjid jayegi ye Babri Masjid jayegi. Maine kaha bhai kya mamla hai bole wo Narashima Rao pooch raha tha wo kehte aap par bharosa hai aisa lao maine kaha bhai jayegi maine toh isliye keh diya ki taiyari poori ho gayi thi (prime minister Narashima Rao had asked Subramanian Swamy in the Lok Sabha to get some definite source which could tell what the planning was. Subramanian Swamy was an MP. He is a friend even today. He came to me and asked me what was the plan for December 6. I said the mosque will sure go. When I asked him what was the matter, he said Narashima Rao wanted to know about it from some dependable source. I said the mosque will go. I said so because all preparation (for demolition) had been made)."
Although he claims he knew all preparations had been made to bring down the mosque, Sharma would not accept that he was privy to any conspiracy.
Swami Nritya Gopal Das, Hindu priest
Sadness and joy in the saffron brigade
Another Hindu sant who was in the thick of action on that fateful day, Swami Nritya Gopal Das, considers December 6, 1992, the golden moment of his life. Faithful and devout a man as he is, Das gratefully acknowledges certain players who made it happen: "Bhagwan Ram ki kripa se jo asambhav karya tha wo sambhav ho gaya … usmein Chandra Reddy, Pradhan Mantri, Kalyan Singh inka bada sahyog raha hai wo ek dancha tha … virajman ho … dwast ho gaya (With the grace of Lord Ram Chandra, an impossible task was accomplished … we received the support of from Chandra Reddy (sic), the (then) prime minister and Kalyan Singh)."
Saying nobody present on that day was averse to what was happening, he defends Adavni's utterances: "Nahin hum log the Advani ji ityadi jitne bhi Vishwa Hindu Parishad ke saath-saath jitne bhi sabhi neta the … sabhi log the koi roka toka nahi poojan karaye idhar poojan ho raha tha udhar sab kaam kiya sabki ruchi thi sabki bhawnayen judi huyi thi ye toh thoda sa aisa hai na jo bhi neta hota hai ya pad par hota hai uski maryada hoti hai toh unhone thoda sa jo bhi hulla macha rahe the todne ja rahe todne ja rahe kaafi varisth neta hone ke naate uska ye kartavya ho jaata hai ki aan haan bhai mat todiye parantu unki hardik abhilashayein nahi thi ki koi sahyog na de par wo ek batuar neta ke taur par ye kaha tha nahi nahi mat todiye mat todiye (No, we all were there, Advani and all VHP leaders were together there … nobody tried to stop it … while we were doing pooja, they were doing the work … everybody wanted it … their sentiments were associated with it … the problem is if someone is a leader or is holding a high position, it carries cetain dignity. So, when people started shouting, as they were going to break it, as a leader it becomes his duty to tell them not to do so. As a leader he told them not to break it)."
Defending Advani, Das says that the BJP leader did not say no to the Sankalp that was taken to demolish Babri: "Na, na aisa nahi hai hum toh wahin the sankalp mein wahin the ye mana wana unhone kuch nahi kevel rashtriya star ke neta hone ke kaarna bola haan haan kya kar rehe aise aise hi jhoot moot hulla gulla … haan haan sankalp hua hum toh wahin sankalp mein baithe huye the (No, there is nothing of that sort. When the Sankalp was being administered, I was there. He did not stop it. Being a national leader, he asked them 'what are you doing' just for the heck of it … yes the Sankalp was administered … I was sitting there when it was administered)."
It was said in the oath that the structure should be brought down. Says Gopal Das: "Sankalp yehi hua ki wo dhwast ho jaye (The Sankalp was taken that it should be demolished)."
Gopal Das may defend Advani but many of his counterparts in the movement think diametrically opposite. Among such key figures of the movement are Acharya Dharmendra and Mahant Avaidynath.
Acharya Dharmendra Dev, VHP leader
The architect of the Babri Masjid demolition
Claiming to be accused No. 1 in the Ayodhya case, Acharya Dharmendra won't talk straight or talk about Ayodhya at all. The reason is obvious: "Toh koi agar shadyantra racha tha toh kyon bataoonga aapko. CBI court mein itne hazri huyi hai meri, Liberhann Commission mein mere itne bayan huye hain wo jo maine kaha tha usase zyada main kaise kahoonga. Gopaniye agar koi janta wo agar aapko bata doonga toh ye mujhse bada bewaqoof kaun hoga (If there were a conspiracy why should I tell it. I have made so many appearances before the CBI court and I have given so many statements before the Liberhann Commission. Why should I tell anything more than what I have already said? If I tell you something that is a secret, then who else will be a more foolhardy than me)."
He again avers: "Manch par Hanuman Chalisa kara rahe the aur dhai lakh aadmi baithe huye Hunuman Chalisa parh rahe the aur kuch dhancha tod rahe the … jo adalat mein kaha gaya hai wo hi toh bataoonga na (I was reciting Hanuman Chalisa on the dais and two-and-a-half lakh people there were doing it too … I will tell you only what I have told the courts)."
Although he would not say anything that implicates him, Acharya Dharmendra nonetheless confesses to be the architect of the whole movement which culminated in the demolition: "Dekha nahi hum sutradhar the uske dekhna kya tha dekha toh logon ne (You did not notice I was the architect of it. What was there to be seen? The people saw it)."
Like other hardliners of the Sangh Brotherhood, Acharya Dharmendra is livid at the tear-shedding by BJP leader L. K. Advani on that day, showering curses on both Advani and BJP for their betrayal of the cause of Ram Janmabhoomi and accusing them for using it to gain power. Acharya Dharmendra vents his anger on the top BJP leadership thus: "Acha sachai jaanein. Sachai ye hai ki Advani ji karm fod rahe hain abhi tak karm fod rahe hain ki mere jeevan ki abhi tak ki sabse badi durghatna thi. Sachai ye hai. Toh fir kis ko kya fayada hona hai? Atalji ne kaha mere jeevan ka sabse sharmnak din hai toh aur kya sachai hai? Sachai ye hai Arun Jaitley ne kaha ki Hindutva humare liye ek loklubhavan nara hai anyatha hum Gandhivadi samajvadi dharmnirpeksh loktantra mein vishwash rakhte hain. Satya ye hai ki Sushma Swaraj ne 1992 mein ye kaha ki Ram Janmabhoomi ek baar hi cash hota hai aur wo humne cash karwa liya wo karva chuke aur kya satya hai (Know the truth! The truth is Adavni is still cursing his karma going about saying that it (Ayodhya demolition) was the saddest event of his life. This is the truth. Then, who is going to benefit? Atal (Behari Vajpayee) said it was the most shameful event of his life. What more truth you want to know? The truth is Arun Jaitley said that Hindutva is a populist slogan for them.
Otherwise, we believe in the Gandhian, Socialist and secular democracy. The truth is Sushma Swaraj said in 1992 that you can encash Ram Janmabhoomi movement only once and we have done that. What more thruth you want to know)?"
As the Cobrapost investigation has revealed, Acharya Dharmendra had exhorted the karsevaks to take home bricks and other pieces of debris of the fallen Babri as mementos of their bravery to be worshipped. In his interview, he came close to accepting that when he said: "Haan toh dhahai gayi thi toh log utha utha kar malwa le gaye bas jin jin ne hataya tha toda tha wo kyon nahi le jaate apni bahaduri ka award apne saath kyon nahi le jaate aur jo log gaye the iss karya mein sammilit hone ke liye wo kyon chhodte wo utha kar le gaye (Yes, when the Babri was felled, people took away all the debris. Why shouldn't those who had come and had participated in removing it take it all as an award for their bravery)?"
Mahant Avaidyanath, president, Kendriya Margdarshak Mandal of the Dharma Sansad
VHP claims credit, curses BJP
Presiding over the Kendriya Margdarshak Mandal of the Ram Janmabhoomi movement that was the pivot of the Ayodhya movement, Mahant Avaidyanath has only contempt for leaders like Advani. Speaking of Advani, the head priest of Goraksha Dham spews venom: "Advani bahut … unko toh zinda nahi rehna chahiye (Advani … he should not stay alive)."
He doesn't spare the rest of the BJP leadership either, saying: "Nahi sab swarthi log hain jo iss tareh se kehte hain kyonki aapko Hindutva ki avashayakta nahi hai jab zaroorat hoti hai istemaal karte hain (No, all these leaders are selfish who say such things because they don't need Hindutva at all. When they need it, they just use it)."
Completely negating the role of the battle for Babri, Avaidyanath gives all the credit for its fall to VHP: "BJP se koi matlab nahi hai BJP wale jo hain wo party ke roop mein nahi aye party ke roop mein President the kyonki unko vote jo hai Hinduon ka milta hai lekin iss ladai ko poora VHP ne lada (BJP has nothing to do with it. The BJP fellows did not participate in it as party workers. Their president was representing the party because they get Hindu votes … but this battle was fought by VHP only)."
He has no hesitation in admitting who brought the disputed structure down, when he says: "Haan VHP dwara toda gaya (Yes, it was felled by VHP)." When asked if a meeting was held at Hindu Dham where it was decided to fell the mosque, and the BJP was not invited to this meeting, he admits to have attended this meeting: "Aisi baat nahi hai. BJP toh ayi hi nahi thi. BJP involve nahi thi aur BJP chahti thi wo toh VHP Ram Janmabhoomi andolan se jude the wo hi log the (This is not the case. BJP did not come and it was not involved at all. Only those leaders of VHP who were associated with the Ram Janmabhoomi Movement were present in this meeting)."
"Haan, meeting huyi thi bulai gayi thi (Yes, the meeting was held)," he says thus confirming what many of the leaders have admitted in the course of this investigation. But Avaidyanath would never name the leaders who attended it. He would say only this much: "Ismein abhi jo case chal raha hai usmein sab log jo hai ye (All those who are facing the trial were there in the meeting)." The reason is, as Avaidyanath says, "Hum kehenge wo koi likh dega akhbar mein toh kal koi baat hogi to bas giraftar kar lenge (If I say something and some newpapers publish it, they may arrest me)." So he won't let us know who did what on December 6.
Denying that there was a proposal to fell the mosque, Avaidyanath says: "Dekhiye prastav koi nahi wo hi cheez likhwayi gayi thi ki humein gulami ka chinh jo hai Ram Janmabhoomi mukti ke liye kaun se naye upay hai jisase hum sarkar ko bhi badhya kar sakte hain (There was no such proposal (of breaking the mosque). This symbol of slavery … what measures should we adopt for the liberation of Ram Janmabhoomi to force the government … only this much was written in it)."
Avaidyanath is, however, candid enough to accept that an oath or Sankalp to fell the mosque was administered that day. "Haan (Yes)," he confirms. According to him everybody present there wanted the structure to go but nobody will say they did it.
The Cobrapost reporter reminds him of the sacrifices numerous karsevaks made who died for the cause. But none of the leaders or their outfits came forward to help their families or dependents. One such karsevak was Vinod Vats who died. His old parents have nothing to fall back upon.
A very callous, indifferent face of this movement and it leadership comes in full glare when Avaidyanath makes light of such a sacrifice: "Sabko marna hai tumko bhi hai mujhe bhi marna hai. Mrityu ko kaun rok sakta hai (All have to die, both you and me. Death is inevitable)." He has the same philosophy for his old, helpless parents: "Wo bhi marenge unko bhi marna hai (They will also die. They also have to die)."
Jaibhan Singh Paweya, All India General Secretary of Bajrang Dal, sitting MLA, Madhya Pradesh
The sinister saffron quartet's conspiracy
An engineer by profession and an avowed Hindu nationalist by conviction, Jaibhan Singh Paweya was one of the leading lights of the Ram Janmbhoomi movement. His interview with Cobrapost makes it clear that all the arms of Hindu brotherhood knew what the other outfit was doing. Paweya makes it clear when he says: "Sahi ye hai ki iss andolan ke netritva mein jismein Bhajapa ke bhi Hinduvadi neta shamil the ek leadership hoti hai total milakar Sangh, VHP aur BJP, sant ye chaar part the samajh mein aa raha hai na aapko Sangh, VHP, BJP aur sant (It will be right to say that the leadership of this movement, in which there were some Hindutva hardliners of the BJP, consisted of four parts in total, (Rashtriya Swayamsevak) Sangh, VHP, BJP and the Hindu sants … do you understand Sangh, VHP, BJP and the Hindu sants )."
According to Paweya, Ashok Singhal, Sheshadri, Advani and the top rung of the sadhus had decided on December 5 that the disputed structure would not be harmed. But there was another stream which had a different opinion. Says Paweya: "Lekin ek waisi dhara thi, ek alag stream thi jo chahti thi ki jab do lakh log bulaye jaa chuke hain toh unke saath dhokha nahi karna chahiye karseva karni hai. Usmein Murli Manohar Joshi, Acharya Giriraj Kishore, Bhanuprasad Shukla, Dalmia ji, Dharmendra ji ye ek aisa wo tha jo chahte the ki kuch hona chahiye … ye maloom tha ki … hum aur Katiyar bhi shamil the … ye maloom tha ki agar ek eent bhi giri toh sarkarein girni hain aur poora kiya toh bhi hona hai aur hone se roka nahi ja sakta (But there was a different stream among the leadership which wanted some action when two lakh people had been invited and karseva should be conducted. Murli Manohar Joshi, Acharya Giriraj Kishore, Bhanu Prasad Shukla, Dalmiya, (Acharya) Dharmendra, I and Katiyar were in this stream … we knew that governments will fall if a single brick falls (from the structure). But if we did not do anything it was going to happen anyway. It could not be stopped)."
The karsevaks gathered there in lakhs, according to Paweya, were getting restive and the leadership was aware of it. A small band of such karsevaks had been formed to dismantle the structure. Says Paweya: "Doosri taraf underground floor par ek Sheshnag Vahini logon ne bana lithi aur usmein daurne ki training matlab kaise jayenge kaise charhenge (On the other hand, people had formed a Sheshnag Vahini and they were being provided training for like moving about and scaling the walls, under (below) the ground floor there itself)." Both these groups had a meeting on December 5 that stretched up to midnight but no consensus emerged. The next day the karsevaks would not listen to any appeal by any senior leader and went about hammer and tongs to raze the Babri. All these leaders witnessed the demolition from the podium of Ram Katha Manch.
Paweya reveals how Joshi persuaded chief minister Kalyan Singh not to resign till the job was done. Here is what Paweya says: "Uss samay andolan mein baat ye hai ki Kalyan Singh ne tyagpatra dene ki taiyari kar li dopahar ek baje tak Joshi ko convey kiya ki main taygpatra de raha hoon toh Dr. Joshi ne kaha kiske kehne se. Unhone kaha Atalji ne bola hai. Dr. Joshi ne kaha who is Atal ji? I am party president. Jab tak poora toot na jaye koi sena ya force ka pravesh nahi hona chahiye aur aap taygpatra nahi denge. Sena aa jayegi agar aapne tyagpatra de diya (During the movement, Kalyan Singh had made up his mind to resign (from chief ministership) at about 1 p.m. He conveyed it to Joshi. Dr. Joshi asked at whose behest he was going to resign. (Prime Minister) Atal (Bihari Vajpayee), he said. Dr. Joshi said who is Atalji, I am party president. Until the structure is demolished completely, the army should not be allowed to step in and you should not resign. If you resign, the army will step in)." All the leaders present on the podium dreaded that there would be a bloodbath if the army stepped in.
Paweya describes it thus: "Scene toh ye tha ki manch ke peeche Ritambhara apne guru se keh rahi thi ki ye to gururji galti ho gayi at toh goli chalegi log maare jayenge. Manch par tees logon mein se main poore samay paach–chhe ghante saath hi tha (The scene was like this: There was (Sadhvi) Ritambhara at the back of the (Ram Katha) Manch who was telling her guru that a terrible mistake has been made and now there would be police firing and people will get killed. There were 30 people on the podium and I was there with them for 5–6 hours)."
Paweya also describes how the debris of the mosque was removed in no time: "Acharya Dharmendra ne ek appeal ki ki tum jin eenton par dhook rahe ho ghrina mein ye vijay ka prateek hain inko apne ghar ki pooja mein le jakar rakho toh ekdum se do lakh logon ne pata nahin lagne diya (Acharya Dharmendra made an appeal (telling the karsevaks) that the bricks (of the demolished Babri) you are spitting on with hatred are a symbol of victory. Take them along to your home and keep them at your place of worship. This is how two lakh people cleaned the site of its last fallen brick in no time)."
Naturally, the investigating agencies like the CBI could not lay their hands on such material, although they raided the houses of all the accused in the case.
As Cobrapost investigations reveal, Paweya also claims that even petrol bombs were used for the demoltion of Babri: "Ek petrol bomb do baje koi lekar aaya jo eent mein lagane ke baad dhuan nikal kar reh gaya uske baad hila bhi nahi … Brij Bhushan laya tha arre petrol bomb (Somebody brought a petrol bomb at about 2 p.m. After it was planted between the bricks, it did not work, releasing some smoke only. Brij Bhushan had brought the petrol bomb)."
Like his colleague Ram Bhakt Dharmendra Gurjar, Paweya too reveals that the PAC was not only encouraging but also helping karsevaks as they went about tearing the structure down: "Wahan nirman kayra ka jo stall tha, uss stall ko todkar ke saaman nikala. Usmein jo rasse the aur jo PAC tha jo Uttar Pradesh ka usne chhaini aur ye saari cheezein logon ke haath mein di ki isko saale ko sirdard ko khatma karo to wo sahyog mein lekar usase toota tha. Matlab PAC favour mein thi poora sainya bal ye keh raha tha kya-kya chahye tumhein tod daalo tum ye tha wahan par (There was this stall for construtction work. That stall was broken apart and the ropes and other stuff were taken out. The PAC of Uttar Pradesh gave the people chisels and other implements saying they should remove this headache forever. This is how they cooperated in the demolition. I mean the PAC was in absolute favour. The constabulary was saying tell us what you want. You break it down. This is how it happened)."
Vinay Katiyar, former President, Bajrang Dal, former MP from Faizabad
One of the leading lights of the Hindutva Brigade, Vinay Katiyar headed Bajrang Dal which along with other Hindu outfits spearheaded the Ram Janmabhoomi movement since the days it gained momentum with Ram–Janki Rath Yatra finally leading to Babri demolition.
Reminiscing on the events of the day, after the Babri had been razed and Ram Lala had been instated in a makeshift temple, Vinay Katiyar says: "Aur pooja hone ke baad bhi din bhar kaam chalta raha. Ek raat aur beet gayi. Iske baad police ne kaha ki jaiyiye stithi badi kharab ho rahi hai. Desh mein dange shuru ho gaye the (And after the pooja has been conducted, the work continued the whole day. Another night passed, thus. The next day the police authrorities asked us to leave (Ayodhya) saying the situation is getting worse. Riots had started across the country)." But he did not leave Ayodhya until he was arrested along with other perpetrators of this act. He says: "Yaar hum toh 24 ghante 48 ghante poora aage peeche hai toh rahe na wahi wahi jab giraftar nahi huye (Friend I stayed put there for about 48 hours until I was arrested)."
Apart from corroborating his involvement in the act, Katiyar makes a shocking revelation about how then Prime Minister P. V. Narasimha Rao had given his tacit approval for Babri demolition. The only difference is that the message was given by none other than the then Union Home Minister Shankar Chavan. "Ismein badi mahatvapoorna bhoomika Narasimha Rao ki thi aur griha mantri Shankar Chavan ki thi. Dono ke beech kamre mein baatcheet chalti rahi ki ye gir gaya dhancha ab ye gir gaya ye gir gaya duniya ko batate rahe ki P. V. Narasimha Rao so rahe hain (Within the confines of his room, the two will discus the structure will fall and the world outside they will say Narasimha Rao is taking a nap)." He relates how Chavan himself had asked the Hindutva Brigade to tear the Babri down: "Shankar Rao Chavan ne mujhse swayam kaha jahaj mein jab ayodhya aaye the … mujhse kaha tha ki bhaiya aapki sarkar hai isko sab dhwast karo banao (When Shankar Rao Chavan visited Ayodhya he himself told me in the plane that now it is your government (in Uttar Pradesh). Destroy (the mosque) completely and build it (the Ram temple) quickly)."
Sadhvi Ritambhara, VHP leader
Cheers amid the betrayal of the BJP
Another instigator of the karsevaks who brought down the Babri Masjid was Sadhvi Ritambhara. The Cobrapost reporter met the sadhvi at her Mathura Ashram. She speaks of that moment: "Sab jai jaikar ho rahi thi nare kaun sab laga rahe the … humne kya bolna tha 'Jai Shri Ram ho gaya kaam' (There were cheers all around. Everybody was shouting slogans … I said, 'Victory to Ram, the job is done)."
Egging on the karsevaks to destroy the Babri Masjid from the dais were senior leaders of the movement. Says Ritambhara: "Ab manch par toh bahut log the ye toh sangathan ke log zyada bata sakte hain. Champatrai ji, Rajendra ji … Advani ji, Uma Bharti ji, Acharya Dharmendra, hum the, humare gurudev the, mahatvapoorna log manch par hi the (There were so many people on the dais. Only the people from the organization can tell you that. Champatrai, Rajendra … Advani, Uma Bharti, Acharya Dharmendra, me and my guru all were there so were all the important leaders)." But she would not tell which of these leaders gave incendiary speeches to instigate karsevaks. She would admit this much only: "Sabhi ka bhashan ho raha tha sabhi nare laga rahe the (All gave speeches and all shouted slogans)."
Like many of her colleagues in the movement, she is dismayed at the betrayal of BJP. She does not hide her disgust. The entire community of sants, she says, feels cheated: "Dekhiye sant toh naraj isiliye bhi huye ki Bhajapa ko jitna gambhir uss vishay par baad mein hona chahiye tha utna unhone rajnitik laabh liya utni toh wo nahi rahi na toh ye toh ek dhokha hua na janta ke saath iss baat ka toh santon ko bhi bahut dukh hua na kyonki samaj ke samne toh sant gaye the na (You see, sants got angry because although BJP made political capital out of it, it did not do enough for the cause. They betrayed the public and sants also feel very sad about it because it is they who had approached the public in the first place)."
Kalyan Singh, former Chief Minister of Uttar Pradesh
Doing his 'best' to thwart the Babri demolition
An accused in the Ayodhya case, Kalyan Singh was the chief minister of Uttar Pradesh who failed to abide by the undertaking that his government had given to the Supreme Court to protect the Babri Masjid. Instead, his government not only allowed lakhs of karsevaks to reach Ayodhya but also abdicated its responsibility of maintaining law and order. As the Cobrapost investigation has established, Kalyan Singh was being kept posted of every development, for leaders like Vedanti claim to have categorically conveyed it to him on December 5 that the structure will be demolished the following day, yet he did not act. Our investigation also establishes the fact that Kalyan Singh was persuded by leaders like Murli Manohar Joshi and Sheshadri to not resign until Operation Janmabhoomi was complete.
Kalyan Singh, a seasoned politician that he is, denies he had any discussions with leaders at Ayodhya or he had any information beforehand of the demolition plan. Says the former chief minister: "Nahi, chhe December 1992 ko jab dhanch toota … dhancha karsevakon ne tod diya main Ayodhya ke kisi neta se meri koi baat nahi huyi (No, when the structure was demolished on December 1992 … the karsevaks broke it … I did not speak with any leader from Ayodhya)."
On instruction from leaders like Joshi from Ayodhya when the structure had been hammered to dust, Kalyan Singh says: "Kisi se nahi na toh Joshi se meri baatchit huyi na kisi se (I didn't have any talk with anybody, nor with Joshi)."
But he knew what was happening there, and this information came from the local administration, as he says: "Mera kehna hai mujhe kisi ne kuch nahi kaha na meri kisi se koi baat huyi … haan jo adhikari the DM wagaireh unhone mujhe soochna di thi ki aise-aise ghatne ghatit ho gayi hai karsevak charh gaye hain (I will say that neither did anybdy inform me nor did I speak with anybody. Yes the officials such as the DM informed me that this has happened. Karsevaks have climbed (the mosque))."
But he did his best, he says, to stop the demolition: "Poora prayas kiya tha rokne ke liye jo bhi avashyak tha … aur ye bhi keh kiya tha ki bheed ko hutane ke liye kisi bhi prakar ka force chahe istemal karein keval goli nahi chalayi jayegi. Bal ka prayog aansu gas chhodna thoda sab kuch kariye goli nahi chalani. Karan tha agar goli chalti hazaron karsevak maare jaate curfew hota sabki suraksha ke pukhta intezam kiye jo hona tha ho gaya (I did my best whatever was necessary and I had instructed the administration to use whatever force they could to disperse crowds but they would not shoot. Use force, use tear gas, do whatever you can but don't shoot. If there was firing, thousands of karsevaks would have died, curfew had to be clamped. There were solid arrangements for security. Whatever had to happen happened)."
Champatrai Bansal, Joint General Secretary, VHP
Ram versus Ravan over the Babri Masjid
Although one of the pillars of the Ram Janmabhoomi movement and an architect who witnessed the Babri Masjid demolition on December 6, Champatrai Bansal trashes every suggestion of conspiracy behind the event, let alone accept his role in it. Claiming the demolition was a spontaneous act of karsevaks, the closest he comes to accepting his involvement is when he says: "Chhe December wale mein main Ayodha mein tha (I was there in Ayodhya on December 6)." He was there not as a participant but as a spectator. "Kuch nahi darshak (Nothing but a spectator)," he says of his role.
He doesn't say he did not see Ashok Singhal there when asked pinpointedly if he had met the VHP supremo: "Kyon nahi saath-saath he rehte the (Why not. We would stay together)." But it does not mean that they stayed in the same building, he contradicts himself.
Whatever he says is suggestive only and one has to read the subtext. For instance, Bansal says of the symbolic kar seva which some of the leaders were trying to negotiate: "Sabne milkar tay kiya tha ki kal aisa karenge maine itna keh diya tha ye yojna aapki safal nahi hogi kyon kyon nahi hogi ye lakhon log aapki koi baat nahi manenge kisi ke niyantran mein nahi hogi kyon koi kisi ka neta bheed mein sab wo hi aate hain jinhein tum bulate ho bheed mein (All had decided that tomorrow we will do this. I said your plan will not work. Why? These crowds of lakhs are not going to listen to you. They will not be under any control. Why? They don't have a leader to follow. Only those people come in crowds to whom you give a call)."
Drawing an analogy with the killing of Lanka's Ravan at the hands of Lord Ram, Bansal says when the reporter draws his attention to Advani's statement that it was a sad day for him: "Kehne do dekho har ek ko adhikar hai kehne ka. Mujhe dukh nahi, mujhe prasannata hai. Ravana mara samaj prasanna hua ki nahi aajtak prasannata vyakt karta hai ki ni. Lekin Ravana ko prasannata karne wale samaj ne mara ki Ram ne mara (Let him say so. Everybody has right to say whatever he wants. But I am not sad, rather I am happy. When Ravan was killed, society rejoiced. Isn't it? Society still rejoices this. Isn't it? But the question is who killed Ravan? The rejoicing society or Ram)?"
Unable to understand, the reporter says it was Ram who killed Ravan. Bansal asks again: "Ram ne mara ki Vibhishan ne mara (Ram killed Ravana or Vibhishan killed him?)."
The reporter again names Ram. Bansal asks again: "Vibhishan ki bhoomika nahi hai (Didn't Vibhishan have a role in it)?"
Now, you get the point. This is no less an admission of the role Bansal played in Babri demolition as an agent saboteur.
Satish Pradhan, former Shiv Sena MP
Playing an evasive role
Declaring at the outset that he is no longer in politics, Satish Pradhan is evasive about his role in the Babri Masjid demolition, which is quite understandable as the Ayodha case is still subjudice even after 18 years. The maximum he would say of those times is: "I am related but baaki sab band kar diya, kuch nahi (I am related (to the movement) but the rest is past, nothing)."
The closest he comes to revealing is in a very subtle manner, when he admits that leaders like Pawan Pandey had contributed a lot to Ayodhya movement: "Haan ye baat sahi hai ki Pawan Pandey wagaireh sab the. Wo mulaqat karke nahi bol raha hoon. Baaki sab log aise hi gaye the. Yogdan jo hai uska organization mein Pawan Kumar ji ka bahut acha hai (Yes, it is true that there were Pawan Pandey and others. But I am not saying that there was any meeting. The rest of the people went there on their own.
Pawan Kumar (Pandey) made a significant contribution to the organisation)."
Of the role of Balasaheb Thackeray and the strategy of his outfit, we would say only this much: "Nahi kuch bhi nahi aisa kuch nahi strategy aisa bola jaata hai kya (No, there was nothing like that. Strategy! Should one say such things)?" He further explains why he would not speak on the issue: "Jara samajh lo itna aisi baat nahi karenge jab court ka mamla ho toh ussi dhang se zawab dena padta hai (Try to understand, I will not say such things. When the matter is pending with the courts, then one has to reply accordingly)."
Some more pursuation and Pradhan is irritated enough to say: "Wo main Jai Bhagwan Goel nahi hoon. Wo hoga CBI lekar gayi thi Madhya Pradesh mein kahan kiya batao … kahan training hu kya hui kidhar meeting hui thi kuch meeting bhi nahi hua tha fir bhi bakwas baaji karne ke liye bol diya usne meeting hui thi (I am not Jai Bhagwan Goel. He must have been there. CBI had taken him to Madhya Pradesh to verify where the training was held, what kind of training it was. There was no such meeting. Still he said there was meeting)."
Saying that a good politician should do politics with minimum risk, he explains with finality: "Main andolan ke baare mein aisa nahi boloonga. Main boloonga doosra koi kuch bhi bolega wo itna nahi serious liya jayega. Jab main baat karoonga toh wo utna hi serious liya jaayega (I will not say anything about the movement. If someone else speaks about it, it will not be taken seriously but if I speak, it will be taken seriously)." The reason is obvious that he was not only an MP but also a top Shiv Sena leader: "Usase bhi Shiv Sena ka neta tha badi post thi mere paas (Not only that. I was also a Shiv Sena leader holding a high post)."
Moreshwar Save, former Shiv Sena MP
Shiv Sena's secret strategy meeting
The CBI has mentioned in its chargesheet that the Shiv Sena had held a secret meeting in North Avenue in Delhi in which the demolition of Babri Masjid was planned. Present in this meeting were two of its MPs, Moreshwar Save and Satish Pradhan. The premier investigating agency, however, could not prove this in the court. The Cobrapost reporter met Moreshwar Save at Aurangabad in the course of this undercover investigation and asked if the Shiv Sena had a meeting at his government residence in Delhi.
"Nahi usmein nahi kiya tha doosri jageh kiya … North Avenue (No, it was not held there but at some other place … North Avenue)." This establishes the fact that a meeting was held and that the Babri demolition was also planned by the Shiv Sena. It was Moreshwar Save who Pawan Pandey, his co-Sainik, says gave him Rs. 65,000–70,000 to arrange food for the training camps Shiv Sena had organized at Morena and Bhind. Save is no longer with Shiv Sena. Bhagwan Goel too has confessed to have attended this secret meeting which was held in November in North Avenue.
Prakash Sharma, Joint Secretary Bajrang Dal, now Joint General Secretary VHP
'The demolition was a spontaneous act'
Taking further his family association with the RSS, a young Prakash Sharma joined Bajrang Dal 1984, the youth wing of Vishwa Hindu Parishad which was formed to protect the Ram–Janki Rath Yatra which was undertaken by various Hindu outfits from various parts of the country to culminate at Ayodhya. It threw him into the thick of action in those years of the Ram Janmabhoomi movement which ultimately led to Babri demolition on December 6, 1992. Bajrang Dal was banned by the government after the demolition; the ban was lifted after two years on court orders.
Although Sharma has seen all and done all, he would not say anything that would go against him as he is an accused in the Ayodhya case. He likes to beat about the bush and one has to read the subtext. For instance, when the Cobrapost reporter says it was his chief Vinay Katiyar who founded Bajrang Dal, Sharma says: "Dekhiye vyakti koi mat boliye Bharat ke santon ne naujawanon ko Ram–Janki rathon ki suraksha ke liye Bajrang Dal VHP ke bhag ke roop mein sthapana hui … arre sangathan hai na Vihip aur Sangh (You see, don't name individuals. The sants of Bharat entrusted the safety of Ram–Janki raths to the youth for which Bajrang Dal was formed as part of VHP … we have organizations like VHP and Sangh (RSS))." Of the developments before and on 6 December, he says: "Nahi dekhiye swabhavik roop se santon ne ghoshna ki thi chhe December ko karseva karenge karseva ka ek praoop bhi tay tha (You see, naturally the sants had declared that they will conduct the karseva on December 6 and an outline of the karseva had also been prepared)." All were hoping that the Allahabad High Court would give a judgment on the land that the state government had acquired for the Ram Temple to be built there. The judgment was due on Decmber 4 but the judiciary postponed it for December 11. This, according to Sharma, enraged the lakhs who had gathered at Ayodhya for karseva. So they decided to settle the dispute for all times to come and fell the mosque.
But there were leaders who had planned and instigated the restive mob of karsevaks, says Cobrapost reporter to elicit some corroboratory response. Sharma is, however, evasive: "Humari bhoomika par abhi aapki pustak mein bolna isliye uchit nahi kyonki nyayalay mein muqaddma chal raha hai (It will not be appropriate if I speak to you about my role in it because the case is pending in the courts)." The demolition, he maintains, was a result of a spontenous act.
Although doubting the reporter's intentions, what he says now is no less admission of his involvement: "Aapke prashno se toh mujhe zyada lag raha hai ki aap kitab kum likhna chahte ho police inquiry jo karti hai wo. Main kya kar raha tha? Arre bhai jo saare log kar rahe the wo main kar raha tha (The kind of questions you are asking makes me feel that more than working for your book you are working like someone doing a police inquiry. What was I doing? I was doing what everybody was doing (that day))." Sharma is not categorical but subtle when he further says: "Swabhavik roop sabki bhoomika thi ye dhancha saaf ho jaye aur jaisa bhi hai asthai mandir banao wo ban gaya ye hi sabki bhoomika thi (Naturally, all played their role saying this structure should be brought down and a makeshift temple should be built there. The temple was built thus. This is what their role was)." He is somewhat peeved when asked where the Bajrang Dal activists when the structure was being brought down: "Bilkul the kyon nahi the. Hum mulzim the. Bajrang Dal ke karyakarta nahi hote toh hum mulzim kyon banaye jaate (We were very much there. We are among the accused. If Bajrang Dal activists were not there, then why we were made accused (in the case))?"
Lallu Singh, former BJP MLA, Ayodhya
Meetings, ferrying and feeding karsevaks
Another person who played an important role in the Ramjanmbhoomi movement and who was witness to the demolition is Lallu Singh, former BJP MLA from Faizabad. Although Singh would not divulge much, whatever he tells is significantly revealing. He was entrusted with the task of overseeing the lodging and food arrangements for karsevaks and arranging meetings in those few tumultuous days.
"Dekhiye humare jimme vyavastha thi. Jitni bhi vyavasth thi shuru se andolan ke pehle din se. Baithakein karsevakon ko lana le jana, khana khilana ye sab vyavastha mere paas thi kyonki main local tha (You see, from day one of the movement I was looking after all the arrangements, like arranging meetings, ferrying karsevaks and feeding them, because I was a local)."
Advising the Cobrapost reporter whom he should talk to for information on that phase of the movement, Lallu Singh says: "Sab apne hisab se batayenge. Aise do aadmi hain. Ek toh bahut bade aadmi hain, ek toh chale gaye, Moropant. Saari yojna rachna unhi ki hai. Moropant aur Pingle ki thi. Yojna rachna karne mein chaar log the. Ashok ji netritva karte the. Inhi logon ne andolan shuru kiya aur aakhir tak le gaye (Everbody will tell you it in his own way. There were two persons, one of them is a big personality and the other, Moropant, is no more. It was his planning, Moropant Pingle. Four persons planned it all. Ashok (Singhal) would lead them. It is these people who started the movement and took it to its logical conclusion)." The claim establishes beyond doubt how the whole movement was planned and executed.
Brij Bhushan Sharan Singh, former BJP MP
'Babri Masjid's demolition was destiny'
Twice member of Parliament, once with BJP and then with Samajwadi Party, Brij Bhushan Sharan Singh is a difficult man to be coaxed into talking about those days, for obvisous reasons. He is the man who Jai Bhan Singh Paweya claims to have tried to bomb the disputed structure at Ayodhya on December 6, by planting a petrol bomb.
Though reluctantly, Singh gives some shocking revelations. One such is about how Kalyan Singh was persuaded to not resign till the Babri was razed to ground. Kalyan Singh was about to resign when Sheshadri phoned BJP leaders in Lucknow to not allow him to do so.
Says Brij Bhushan of that episode: "Dus baje istifa type kara ke karke chale gaye tab Sheshadri ji ke yahan se phone gaya inko gherkar baithaye the. Dus baje ja rahe the dene ke liye wo bhi dar gaye the … BJP ke saare neta fir Sheshadri ji ne phone kiya BJP saare neta jo Lucknow mein mauzood the jaakar ke Kalyan Singh ko ek tareeke se aghoshit capture kar diye baithiye baithiye keh kek ke paanch bajaye unko (He was going to submit his resignation after getting it typed at 10 a.m. Sheshadri phoned BJP leaders who were present in Lucknow then and all the BJP leaders went there and forced Kalyan Singh to sit with them. This is how they literally kept him under their undeclared capture till 5 p.m.)."
The dilly-dallying on the part of the BJP casued a lot of hurtburns among the rank and file then so much so that the leaders gave in and became a willing participant. Says Brij Bhushan: "Baad mien itna bawal ho gaya, badnami ho gayi tab toh BJP ke man mein hi aa gaya ab toh gir jane do (It led to a lot of criticism so much so that the BJP leadership thought it better allow the structure to go)." He further says: "Adha adhura, sadhe nau baje yahan bawal ho gaya tab toh inke man mein hi aa gaya ab girne do kar kya sakte the jo bhagya tha jo stithi thi (This half hearted approach. At 9.30, there was a lot of turmoil. Then, they also thought it was better to allow the structure to be demolished. What else could they do in the situation? It was destiny)."
He knew of the various meetings that were held before the day Babri was demolished. All big leaders spearheading the movement used to attend these meetings. "Nahi, nahi. Bade netaon ki jo meeting hoti thi usmein top level par hoti thi. Usmein Ashok Singhal hain aur Sangh ke log hain … Ashok Singhal hote the Sheshadir ji wagaireh jo bade uss samay the, Nritya Gopal das ji usmein koi MP nahi jaata tha (No. The meetings of the leaders were held at the top level. Attending these meetings would be big leaders like Ashok Singhal and Sheshadri from the Sangh and Nritya Gopal Das)," claims Brij Bhushan.